Rare Apple Inc. (Nasdaq: AAPL) products turn up all over the world in garage sales, high-priced auctions, and online.
Vintage Apple products don't always mean computers and computer parts. For instance, an Apple Macintosh toy baby buggy once sold on eBay Inc. (Nasdaq: EBAY) for $95.00.
Diehard Apple product collectors shell out serious cash for this kind of memorabilia. Just take a look at the appreciation of some of these vintage Apple products…
Here Are 10 Vintage Apple Products and What They're Worth Today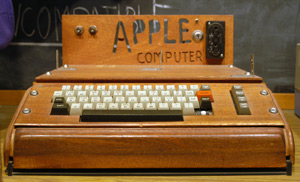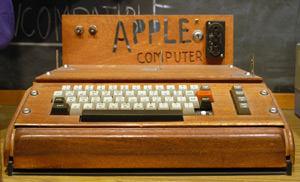 Vintage Apple Product No. 1 – Apple I: The original Apple computer is considered one of the most valuable and collectable computers in the world. Only 575 units were ever sold. Of those, only six are in working condition.
Steve Wozniak designed and built the Apple I model. Wozniak's good friend Steve Jobs later convinced him the Apple I was marketable. It was released for sale in 1976.
In 2010, an Apple 1 sold at a Christie's auction house in London for $210,000. It came with an invoice that listed "Steven" as the salesman. It also included the original package. That gem included a return address at Steve Jobs' parents' house, and a typed and signed letter from Jobs akin to an operation manual.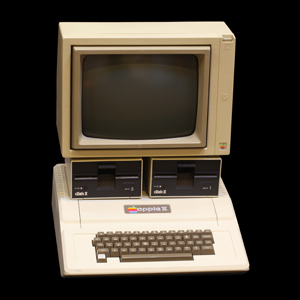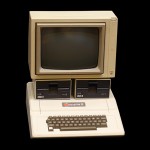 Vintage Apple Product No. 2 – Apple II: The Apple II sold from 1977 to 1993. The model was the very first computer made available for use in public schools. It was also one of the first highly successful home computer systems. Apple sold 6 million units in total.
Nowadays, the original Apple II in mint condition is worth up to $2,500.
PROFIT ALERT: 33 million units of wearable tech devices shipped in 2014. That number is expected to rise to 50 million this year. Here are the wearable tech companies to keep your eyes on…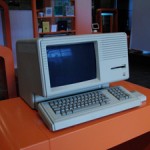 Vintage Apple Product No. 3 – Apple Lisa/Macintosh XL: Named for Jobs' daughter, the Apple Lisa was the last model to be released before the 1984 Macintosh. It was designed for corporate use. Sales were low because of a hefty $10,000 price tag.
Today, the complete Lisa system in mint condition is worth $3,800.00. Its most valuable part is the ProFile or Widget internal hard-drive (depends on the model), which is very difficult to find.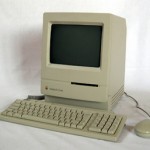 Vintage Apple Product No. 4 – Vintage Apple Velour Jacket: A Fred Perry (international tennis star, designer of the first sweatband) velour jacket was likely made for Apple employees in the 1980s. At least, this is the eBay seller's hypothesis. Though it has no size tag, the seller claims to be a size 44. That would make it a men's large.
Seller lists the jacket for $699.
Vintage Apple Product No. 5 – Apple Macintosh II/SE: This model may ring a bell. The Apple Macintosh II is one of the company's most recognizable early computers. They were sold from 1987 to 1990. The model is the first compact computer compatible with both hard disks and floppies. Because of an additional cooling fan, it was also more reliable than its predecessors.
An operational SE (listed to be "sold as is" with no guarantee) is currently on eBay for $179.99. Seller warns potential buyers: make sure it's really what you want.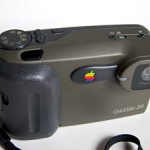 Vintage Apple Product No. 6 – Apple QuickTake 100: The QuickTake 100 camera was produced and marketed in 1994 as part of the company's drive toward mainstream electronics. Apple collaborated with Kodak (OTCMKTS: EKDKQ) on the design. With 1 MB of internal flash memory and JPEG, TIFF, and BMP support, the model set the stage for digital photography. Much like most of Apple's products today, the camera only worked with Macintosh computers. The camera was a success for about three years, until Kodak and Fuji released versions of their own at a cheaper price point.
Apple Quicktake 150s and 200s are available to purchase on eBay for as little as $19.99 and as much as $200.00 (depending on condition).
Vintage Apple Product No. 7 – Toy Baby Buggy with Apple Logo: The origin of this product is unknown. Some think it could have been a grand prize for a contest give-away. Others believe it to be a display item.
Whatever the case may be, the toy baby buggy went for $95.00 on eBay according to BuzzFeed.
Vintage Apple Product No. 8 – Apple Bomb Watch: A "vintage" 1998 Apple watch with a MacIntosh Bomb cartoon on its face is currently posted on eBay. (In a twist of irony, the bomb icon appeared on a Mac's screen when a "system error" occurred.) The Apple icon is at the "12:00" spot on the watch's face. The logo is also inscribed on the underside.
The watch is listed for $95.00. The seller states it's in "great working condition."
Vintage Apple Product No. 9 – Apple iPod Classic: The click-wheel iPod Classic was made for six "generations." With its quintessential click-wheel, this classic Apple product simply plays music – that's it. No cameras, no texts, and no movies. Simplicity is precisely why the iPod Classic has made a comeback.
The sixth (and final) generation 160 GB Apple iPod Classic holds 40,000 songs. Comparatively, Spotify's music streaming service holds 20 million songs. But the iPod Classic offers a more focused listening experience without a monthly subscription or data usage fee.
The sixth generation sells for $550 to $700. Its big brother, the first generation iPod Classic (first sold on Oct. 23, 2001), sells for a whopping $35,000 on Amazon.com – yet has 35 times less storage at 5 GB.
Vintage Apple Product No. 10 – An entire collection of Apple products: A seller in Costa Rica listed his/her entire Apple collection for $40,000 on ebay. The lot includes:
Several iPod Classics
A rare Apple QuickTake 100
22 different desktop models
12 portables
13 printers and scanners
An iPad mini
3 servers
4 Newtons (Apple's version of a Palm Pilot)
3 cameras
7 displays
21 iPods and iPhones (including iSocks, designed to carry and protect the iPod nano)
No one has yet made an offer on the collection, but there are 237 people "watching" it.
The Greatest Profit Cycle in Silicon Valley History: All the ingredients are now present for a multiyear run in tech stocks that will dwarf anything we've seen before – creating a slew of new tech millionaires. Make the right moves and you can be one of them. Tech expert Michael Robinson will show you exactly what to do with his just-released 2015 Tech Investor's Forecast… 7 specific tech stocks to buy right now that could create Alibaba-like wealth this year. Download it here for free…