Pssst! Do you want to make some money trading some initials? Real easy money?
As soon as you read this "ECB QE and EU LTRO for Dummies" explanation, which would take even a dummy about two minutes to understand, you'll be set to trade some initials.
For real. I just made my subscribers 382% trading these initials. And we're not done. After closing out our 382% gain, we're in the same trade again, and we're up 180% in just a few weeks – and still going.
We're also in a conservative trade, trading the same initials mind you, and we're up 41% there.
The initials are EUO. EUO is an ETF (exchange-traded fund).
Soon, you'll be ready to make some real money…
ECB QE: The World's Biggest Economic Experiment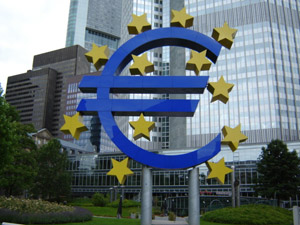 The ECB is the European Central Bank. It's Europe's central bank, just like the U.S. Federal Reserve is the central bank of the United States.
The EU is the European Union. The EU is a confederation of 28 European countries, a sort of wannabe United States of Europe. Of the 28 countries in the EU, 19 of them exchanged their sovereign currencies for the euro, the EU's single currency. The other nine EU member countries, though they gladly accept euros, kept their old currencies.
After the credit crisis of 2008 and the Great Recession, which devastated Europe as much as the United States, the EU and the ECB followed the U.S. government and Fed's "stimulus" plan and worked to drive interest rates down.
The ECB embarked on an LTRO program, longer-term refinancing operations. But its "stimulus" program wasn't nearly as big as what the Fed did in the United States.
While the Fed spent about $4 trillion buying U.S. Treasuries and agency mortgage-backed securities ("agency" means that those mortgage-backed securities are guaranteed by some federal agency, like Fannie Mae or Freddie Mac), the ECB spent less than half that amount on asset-backed securities and covered bonds from European banks.
The Fed's stimulus programs, which happened in three stages – the first in November 2008, the second in 2010, and the third in 2012 – became known as QE1, QE2, and QE3.
Join the conversation. Click here to jump to comments…
About the Author
Shah Gilani is the Event Trading Specialist for Money Map Press. In Zenith Trading Circle Shah reveals the worst companies in the markets - right from his coveted Bankruptcy Almanac - and how readers can trade them over and over again for huge gains. He also writes our most talked-about publication, Wall Street Insights & Indictments, where he reveals how Wall Street's high-stakes game is really played.