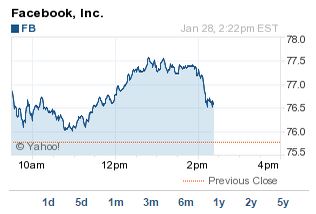 Facebook earnings for Q4 come out today (Wednesday) after the close. Expectations are high - but can anything keep this FB stock run going?
The Menlo Park, Calif.-based company is expected to post earnings per share (EPS) of $0.48. That's up $0.02 from $0.46 three months ago. It would also be comfortably higher than the $0.31 per share earned in the same quarter a year ago. Revenue is forecast to jump 46.1% year over year (YOY) to $3.78 billion.
Whisper numbers are even more bullish, with EPS coming in at $0.49.
Even if FB posts a strong quarter, will it be enough to impress investors? Facebook stock (Nasdaq: FB) is up some 45% over the last 12 months and 150% over the past two years. The broad-based S&P 500 Index, meanwhile, is up 37% over the same time.
Here's how FB earnings can impress - and drive the stock after-hours in an Apple-like rise...
Facebook Earnings: What Matters to Investors
FB posted big numbers in Q3 - but the stock still fell initially.
In Q3 2014, Facebook noted mobile ad sales rose to 53% of revenue. That was up from 49% quarter over quarter. Further, Q3 marked FB's first ever $1 billion-plus mobile ad revenue quarter.
Additionally, Q3 was the ninth consecutive quarter in which FB handily beat forecasts.
Nonetheless, shares skidded more than 10% after the Q3 earnings release. Company comments that expenses would increase 50% to 70% in 2015, as it invests in new areas, spooked market participants.
Here's what to watch in Q4 FB earnings today, to gauge where FB stock could go in the short term:
Member Count and User Engagement: Facebook counted 864 million daily users and 703 million mobile daily users in Q3 2014. Total user count last quarter grew a tepid 2.27% to 1.35 billon. That was slower than the lukewarm 3.125% user growth in Q2 2014. Sterne Agee anticipates FB's Q4 monthly active audience tally to inch up to 1.38 billon. The investment firm sees daily active user count modestly rising to 884.5 million. Sterne Agee expects engagement to be flat. User engagement, the ratio of daily active users to monthly active users, is one of the company's most closely watched metrics. It's telling of whether or not members are getting bored with the site. Experts say Facebook must meet or exceed 64% engagement to prove to investors users haven't tired of the service.