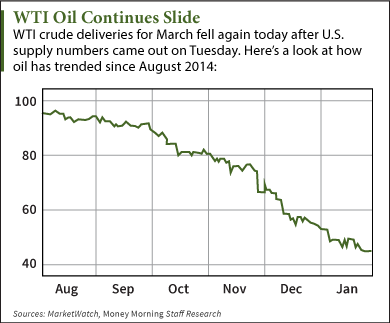 The oil price today (Wednesday) continued its seven-month fall after Tuesday's supply report from the American Petroleum Institute (API). As trading opened Wednesday, WTI oil prices dipped 2.21% to $45.21, erasing Tuesday's $1.08 gain. Brent oil prices fell 0.93% to $49.14.
The API report showed oil supplies rose 13 million barrels in the last week. That's almost four times more than the 3.5 million barrels projected by analysts polled by Platts.
Oil prices are down about 12.7% this year. Investment banks continue to downgrade their forecasts. Today, Barclays Plc. (NYSE ADR: BCS) cut its 2015 WTI outlook to an average of $42 a barrel. Credit Suisse cut its average price for Brent from $75.25 to $58 a barrel.
And now there's even more talk about the "massive oil supply glut."
You might be losing money every day... Every investor is hard-wired to do three things that kill returns. Do you know how to avoid them? Find out what they are, plus the single best investment strategy for maximum gains, in our free guide: Make 2015 Your Wealthiest Year Yet
"There is a much greater degree of uncertainty in the dynamics that will shape the physical crude demand-supply balance and crude pricing than we have seen in recent history," said David Hewitt, managing director and co-head of oil research at Credit Suisse Group AG (NYSE ADR: CS), told The Wall Street Journal.
But - as Money Morning Global Energy Strategist Dr. Kent Moors has told us - the global supply glut is an exaggerated concept...
The Truth About Supply Stats and Oil Prices Today
"The pundits continue to hawk the same reasons for the fall in oil prices," Moors told readers Jan. 13. "These are always 'spearheaded' by comments about surging global supply led by the onslaught of unconventional (tight and shale) oil production in the United States.
"Invariably, what's missed by these 'TV sages' are the pricing dynamics kicking in that virtually guarantee an increase in oil prices as we move into 2015. They're based on the actual condition of the oil market, not some knee-jerk emotional commentary delivered by the talking heads on TV - some of whom are actually short the market."
Moors pointed to some well-known economists who understand the oil markets and their recent bullish forecasts. Here's what the pundits don't understand about what's happening to the price of oil in 2015...
Related Articles: