Investors panicked today after Alibaba earnings for its fiscal Q3 2015 came out before market open. In fact, they fled from Alibaba stock so fast shares fell as much as 11% by 10:00 a.m.
But don't follow the crowd out of Alibaba stock...
You see, one thing that spooked investors today was a slight revenue miss. Alibaba Group Holding Ltd. (NYSE: BABA) reported revenue of $4.2 billion for the quarter ending December 2014. Analysts had predicted revenue of $4.45 billion. That's 5.6% below estimates - but 40% higher year over year.
That's actually good news. But Alibaba shareholders still bailed - why?
Investors were already jittery due to controversy earlier this week about Alibaba's merchandise. A Chinese government agency criticized Alibaba for its monitoring of unlicensed or "knockoff" goods. In a report released Wednesday, the agency expressed concerns over "the long-term existence of illegal problems regarding the management of transaction activity and other issues."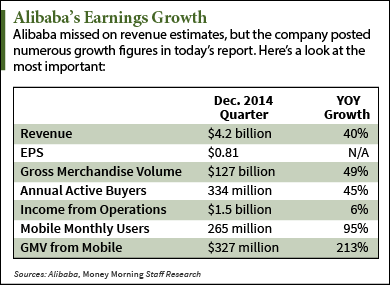 Investors have been on edge since that announcement. When revenue missed targets today, many sold out of their positions.
But that's just part of BABA's story.
"Bottom line is the headlines read that 'Alibaba Missed Expectations.' The headlines should read 'Analysts Got It Wrong Again,'" Money Morning's Chief Investment Officer Keith Fitz-Gerald said. "Alibaba is a growth company and like other growth companies, quarterly numbers are almost meaningless.
"The mistake that most investors make when it comes to companies like BABA is that they try to apply western metrics to the company, when they're totally irrelevant. Figures like growth rates and profit margins are all artificially derived from western metrics. The fact is, most western analysts are viewing this like a western company when they shouldn't."
Money Morning's Executive Editor Bill Patalon attributes today's 9% dip to Wall Street's unrealistic expectations following Alibaba's historically large offering.
"With an IPO as big as Alibaba's, the expectations get incredibly high for the company," Patalon said. "The expectations really get out of whack."
The revenue figure has distracted investors from many bullish figures deeper in the report...
Take a Closer Look at Alibaba Earnings Today
While pundits focus on revenue, BABA earnings actually beat estimates today. The company reported earnings per share (EPS) of $0.81. Estimates called for EPS of $0.75. That's an 80% increase from last quarter.
Gross merchandise volume (GMV) also grew. GMV is the total amount of money spent over Alibaba's network of sites. And the growth is steady. GMV increased 49% in both Q3 and Q2.
Alibaba Group Holding Inc. (NYSE: BABA)
Recent Price: $89.48
Market Cap: $245.9 billion
Institutional Ownership: 16%
Profit Margin: 46.3%
Operating Margin: 42.2%
Alibaba's user base is growing, too. Annual active buyers in Q3 reached 334 million. That's up 8.8% from the previous quarter, and 45% from the previous year.
Income from operations was $1.5 billion. That's a 6% increase from the previous year. Net profit was $2.1 billion. Analysts polled by Reuters had set that figure at $1.9 billion.
But the most important number in Alibaba's Q3 report is mobile growth.
The company indicated mobile monthly active users hit 265 million. That's a yearly increase of 95%, and a 22% increase from last quarter.
GMV from mobile users hit $327 million. That's up 213% from 2013 and 64% from Q2. Now mobile users account for 42% of Alibaba's total GMV. It was only 35.8% in last quarter's report.
Alibaba's shift to mobile e-commerce is extremely important. Right now, the global mobile market is growing at a staggering rate.
According to the research firm Gartner, mobile payment transactions will grow by 35% annually through 2017. The global market for mobile payments will reach $721 billion by the end of 2017.
And as Fitz-Gerald explains, there's another key reason mobile is so important to Alibaba.
"In contrast to the west that grew up on landlines, you have whole cities in China that have never known landlines and have gone straight to mobile," Fitz-Gerald said. "You have an incredible incentive to grow that pathway there. The mobile user base in China alone dwarfs the entire U.S. user base, mobile or not."
What all this tells us is BABA remains one of the best long-term plays on the market...
Great Opportunity to Buy Alibaba Stock Today
Alibaba stock is now trading below $88 per share for the first time since mid-October. After hitting a high of $120 per share on Nov. 10, BABA has dipped more than 27%.
But investors who focus too closely on today's report are going to miss what Alibaba can deliver...
"What you have to look at is the long-term potential, which is still huge," Patalon said. "They still haven't even maxed out their own market. They're bringing in entertainment companies and new business-to-business ventures. They're going to keep expanding their offerings."
When it comes to the matter of unlicensed goods, Patalon says it's an issue the company needs to address. But every company has its issues. How a company handles its problems is the key.
"Every company has warts - there's no company that doesn't have problems," Patalon explained. "If you look closely enough at any company you're going to find issues. It's how you deal with the issues that determines whether you'll be a successful company or not."
For those panicking about today's BABA drop, Patalon points to Alibaba's closest peer, Amazon.com Inc. (Nasdaq: AMZN). Exactly 17 years ago today, AMZN stock was worth less than $5 and was in a similar position. Now it's over $303 per share.
"Alibaba is a stock that you have to be willing to hold for a long time," Patalon said. "You don't just load up the truck with Alibaba stock and pray. You buy in and add to your position when there are pullbacks. This is a stock you want to hold for 10 to 15 years."
Said Fitz-Gerald: "To me, any long-term investor would be foolish to look at a pullback like this and not add to their position."
The Bottom Line: BABA stock is falling today because earnings didn't reach overblown expectations. But the real earnings story is that this company is making money and positioned to keep doing so for years. This is a long-term profit machine. Today's pullback is a great opportunity to add to your position.
Make 2015 Your Wealthiest Year Yet: Get in the best financial shape of your life with this guide to money making in 2015. You'll get the three bad investing habits to dump immediately, the single most effective strategy to maximize returns, and five stocks to get started on the road to wealth...
Related Articles: