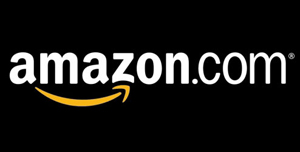 Impressive sales but inconsistent profits have been the story of AMZN earnings the last few years.
Today's (Thursday) Q4 report is no different...
Amazon.com Inc.'s (Nasdaq: AMZN) sales increased 15% compared to last quarter, but profit dropped again from the same period a year ago - just not as much as expected.
The largest online retailer in the United States made a net profit of $214 million in the final three months of 2014. That's still a $25 million decline from the same quarter a year ago.
However, it was better than analysts projected. Fourth-quarter earnings per share (EPS) of $0.45 beat Thompson Reuters consensus estimates of $0.17. Revenue rose to $29.33 billion, falling under estimates of $29.65 billion.
The market reacted positively to the EPS beat. Amazon stock is up more than 11% after-hours.
So why has the world's biggest retailer failed to deliver consistent profits to investors?
Here's the key to Amazon's lack of solid net income - and what this means for playing AMZN stock right now...
AMZN Earnings: What You Need to Know
Money Morning Defense & Tech Specialist Michael A. Robinson - who has followed tech markets for more than 30 years - might be the biggest Amazon.com fan in the world.
"I love this company and couldn't get by without it," Robinson said today. "If I get any more deliveries from Amazon, I'm going to have to build an in-law unit for the UPS driver."
PROFIT ALERT: 33 million units of wearable tech devices shipped in 2014. That number is expected to rise to 50 million this year. A select group of companies will rake in the dough. Here are the wearable tech companies to keep your eyes on...
But Robinson advises investors take a look at one figure to truly understand what's going on with Amazon earnings (and to make an informed decision on how to play Amazon stock).
That's expenses.
You see, Amazon entered a build-out phase in 2011 and it has not ended. Just look at how much Amazon is spending:
On Jan. 28, Amazon said "Workmail" - a corporate email/calendar solution - will launch in Q2 2015.
On Jan. 19, Amazon Studios announced it will produce up to 12 original movies a year.
On Dec. 1 (Cyber Monday), the company deployed 15,000 drones - a project it had worked on since the summer - to help process orders in its fulfillment centers.
On Dec. 2, it launched a restaurant takeout and delivery service. A drone delivery service called "Amazon Prime Air" is currently in the company's R&D pipeline.
On Nov. 26, Amazon "completed its first level of talks" to buy Indian online fashion retailer Jabong.
On Aug. 20, Amazon announced a new headquarters in China to gain Asian market share.
On Aug. 18, it spent $970 million on Twitch Interactive Inc. - the world's largest gaming arena and the fourth-largest source of all U.S. web traffic.
On Aug. 13, the company entered the mobile payment business with its Local Register device.
And in July, it launched the Fire Phone.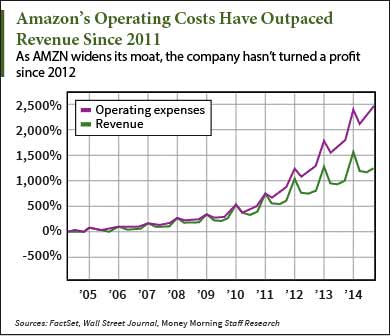 Operating costs have outpaced revenue since 2011. That's precisely why the company hasn't been making massive amounts of money, despite customers' love for Amazon.com and its products:
Today, Amazon reported operating expenses rose to $28.7 billion from $25.1 billion the previous quarter.
Because of the amount of cash it pumps into expansion, Robinson views AMZN as a growth stock. In other words, even though it's been one of tech and retail's biggest names for a decade, it's more like a biotech stock than a retailer.
And that means investors waiting for AMZN profits have to be patient.
"This is the kind of thing growth investors have to deal with on a regular basis. The next leg up for a company means at least a few quarters of losses on a per-share basis because it's expensive to ramp up," Robinson said in July 2014. "I don't think they know how long their build out is going to take, and so they intentionally leave earnings reports and calls vague to give some wiggle room."
"The build out phase is eating into potential profits and at this point I'm anxious to see more money fall to the bottom line," he said.
Of course, investors hate uncertainty. That's why AMZN stock has fallen 20% in the last 12 months.
Cash in on Tech Stocks in 2015: All the ingredients are now present for a multiyear run in tech stocks that will dwarf anything we've seen before - creating a slew of new tech millionaires. Make the right moves and you can be one of them. Tech expert Michael Robinson will show you exactly what to do with his just-released 2015 Tech Investor's Forecast...7 specific tech stocks to buy right now that could create Alibaba-like wealth this year. Download it here for free...