The Dow Jones today gained 225 points. What fueled the surge? Strong earnings reports from a number of Blue Chip companies and an upswing in oil prices. Brent crude oil for March closed up 1.4% to $49.13.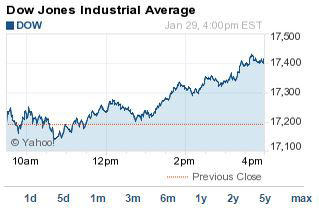 Today's Scorecard:
Dow: 17,416.85, +225.88, +1.31%
S&P 500: 2,021.25, +19.09, +0.95%
Nasdaq: 4,683.41, +45.41, +0.98%
The S&P 500 Volatility Index (VIX), the market's fear gauge, slipped more than 8% on the day.
What Moved the Markets Today: The good news started today before trading opened. Job cuts slipped to 15-year lows last week, a positive sign for the U.S. employment situation. Only 265,000 Americans filed for unemployment compensation last week, according to the U.S. Labor Department.
A positive earnings statement from Ford Motor Co. (NYSE: F) and a CEO change at McDonald's Corp. (NYSE: MCD) also helped lift the Dow.
Now, check out the other top market stories – plus get today's new profit tip for investors: