Many investors expect "Super" Mario Draghi's recently announced 1.2 trillion euro stimulus program to produce big market gains just like the Fed's QE did here in the United States.
What they're missing is that not all companies are going to benefit. In fact, the vast majority won't.
How do you know if the one you want to buy is one of 'em?
...because it's tied into one or more of the six unstoppable trends we're following.
That's what we're going to talk about today.
A 1.2-Trillion-Euro Windfall Powered by Scarcity & Allocation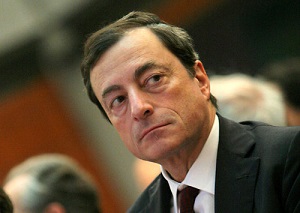 Mention the words "allocation" and "scarcity" to most investors and they immediately default to looming shortages of water, minerals, or even food.
In reality, though, there's another twist - a shortage of people.
Let me set the stage.
No doubt the situation in Europe looks very familiar.
You've got a ginormous 19-member economic block with a combined GDP that ranks only below America's in terms of size and that's failed miserably to restart itself on the heels of the Financial Crisis.
So, like many other nations around the world, its central banking body - the ECB - has turned to massive bond-buying (quantitative easing) to drive interest rates near zero in a desperate attempt to get consumers to spend rather than save.
With 15% unemployment in the Eurozone and growth middling at 1%, Draghi's clearly under enormous pressure to do something. Unfortunately, he's chosen an option that in the end run is far worse than doing nothing, just like Fed Chair Yellen and Bernanke before her.
In the past, I've recommended readers of the Money Map Report take advantage of the Fed's stimulus while simultaneously insulating their portfolios from the inevitable blowback by investing in what I call "must haves." I still do today for one simple reason - they're the companies humanity simply can't do without. That gives them tremendous staying power even if market conditions grow rougher and even as "nice to have" stocks get pummeled.
My point is that you can have your cake - and invest in it, too...
Join the conversation. Click here to jump to comments…
About the Author
Keith is a seasoned market analyst and professional trader with more than 37 years of global experience. He is one of very few experts to correctly see both the dot.bomb crisis and the ongoing financial crisis coming ahead of time - and one of even fewer to help millions of investors around the world successfully navigate them both. Forbes hailed him as a "Market Visionary." He is a regular on FOX Business News and Yahoo! Finance, and his observations have been featured in Bloomberg, The Wall Street Journal, WIRED, and MarketWatch. Keith previously led The Money Map Report, Money Map's flagship newsletter, as Chief Investment Strategist, from 20007 to 2020. Keith holds a BS in management and finance from Skidmore College and an MS in international finance (with a focus on Japanese business science) from Chaminade University. He regularly travels the world in search of investment opportunities others don't yet see or understand.