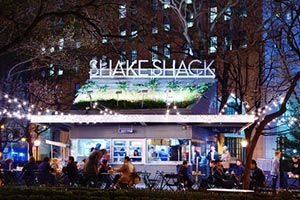 Out of the 12 stock launches this week, the Shake Shack IPO (NYSE: SHAK) is the most highly anticipated.
And the question on everyone's mind remains the same: is Shake Shack stock a good investment?
Here's a rundown of Shake Shack stock and if it's a good one to buy...
Your Shake Shack Stock Questions Answered
What kind of company is Shake Shack?
Shake Shack is a fast-casual burger chain based in New York City. It specializes in burgers, hot dogs, fries, and milkshakes. In 2000, restaurateur Danny Meyer established a hot dog cart to help redevelop Madison Square Park, which had been in a state of disrepair. Over the next few years, the cart became extremely successful. Meyer's company, Union Square Hospitality Group, opened the first official Shake Shack in 2004. Since then, the company has grown to 36 domestic and 27 international locations.
How much money does Shake Shack make?
The company reported $156.1 million in sales for the first nine months of 2014. Total revenue - which only includes licensing revenue from franchised locations - reached $83.8 million during the first three quarters of last year. Shake Shack's seven Manhattan locations make up the majority of its sales. Each generated an average of $7.4 million during the last fiscal year, compared to $3.8 million elsewhere.
Revenue growth is a concern. New restaurants opened within the last three years have a 79% annual revenue growth. But total revenue had a compound annual growth rate of only 62%. That means sales growth has been generated almost entirely through new locations. Same-store sales have also slowed, dropping to 5.9% growth in 2013 from 7.1% in 2012.
What is the Shake Shack IPO price?
On Wednesday, the company raised its IPO price range to $17 to $19 a share. This is an increase from its previous range of $14 to $16.
How many shares will Shake Shack sell?
According to Renaissance Capital, a manager of IPO-focused ETFs, Shake Shack will sell 5 million shares on the New York Stock Exchange (NYSE).
How much money is Shake Shack raising with their IPO?
After raising its range, Shake Shack now aims to raise $90 million. That's a $15 million increase from the original amount.
Why is the Shake Shack IPO getting so much attention?
This and the Box Inc. (NYSE: BOX) IPO have been the two most talked about deals of 2015.
Jim Cramer, host of CNBC's "Mad Money," said the company is better than the other fast-casual IPOs and is "likely to roar right out of the gate." USA Today referred to it as a "blockbuster IPO." And Yahoo! Finance referred to it as "an Internet stock, only with burgers."
The hype comes from the "better burger" craze that has grown in recent years. According to Technomic researchers, the "better burger" category accounted for $2.4 billion, or 3.3%, of 2013's $72 billion in sales at U.S. burger chains. Private companies like Five Guys and Smashburger led the category that year.
Shake Shack's growth potential has also generated buzz. The company plans to open 10 new company-owned domestic locations per year starting in 2015. In its Securities and Exchange Commission documents, Shake Shack says this growth strategy will bring it to 450 U.S. locations.
"We believe there is tremendous whitespace opportunity to expand in both existing and new U.S. markets, and we have invested in our infrastructure through new hires at our home office to enable us to continue to grow rapidly and with discipline," the IPO prospectus reads.
Are there other similar companies that have held IPOs lately? How have they done?
When answering "is Shake Shack stock a good investment?" it's important to look at recent IPOs from similar businesses.
Shake Shack stock will hit the market at a time when fast-casual restaurant IPOs are finding success. The Habit Restaurants Inc. (Nasdaq: HABT), a competing burger chain, doubled its share price on its first day in November. Mexican chain El Pollo Loco Holdings Inc. (Nasdaq: LOCO) soared 60.2% on its first day in October.
But IPO hype doesn't guarantee long-term success. After hitting a high on Dec. 12, HABT stock has dipped 24.1%. LOCO shares are down 38.5% from their highest point on Aug. 1.
Now for the big question...
Should I Buy Shake Shack Stock?