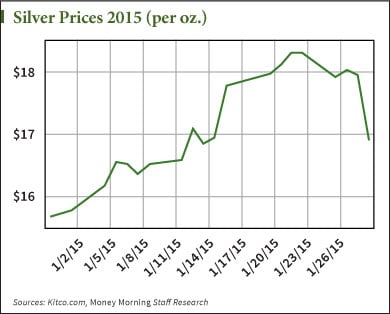 Our 2015 silver price chart shows how much the metal got dinged this week.
After an impressive start to the year where the spot price of silver marched above $18 and hit a four-month high, it fell back down another 7.5% this week. The price of silver per ounce closed yesterday (Thursday) at $16.915.
The volatility of silver prices this year is a perfect example of why silver's not for every investor. As you can see in our 2015 silver price chart, the silver spot price started the year at $15.685. This was near its four-year lows established in Nov. 2014. Then it surged ahead to $18.31 last Thursday, only to once again head back toward late 2014/early 2015 support levels.
There are a couple reasons as to why silver prices are down. The most immediate is dollar strength. The U.S. dollar index remains elevated as the Eurozone preps for quantitative easing, and the Bank of Japan continues to unleash the easy money spigot.
That does a couple of things to silver. A stronger dollar immediately puts deflationary pressure on commodities - it takes fewer dollars to buy more silver. But it also redirects money to dollar denominated investments. U.S. 10-Year Treasury Yields have been falling to levels not seen in two years, falling below 1.7% today (Friday).
But the dollar has been strong for 2015, and silver still managed to grow 17%. The reason it fell this week falls entirely on the shoulders of the U.S. Federal Reserve.
It's unfortunate, but Fed meetings can deliver a blow to the price of silver. It's troubling that Fedspeak can do this, but optimism for the economic outlook for the United States sent silver prices falling $0.70. They fell another $1.045 yesterday, still driven by Fed optimism.
It's a shame that a positive Fed outlook diminishes silver's safe haven status. If anything, it should do the opposite.
"The Fed has been wrong about every indicator it has ever looked at for the last 20 years," said Money Morning Chief Investment Strategist Keith Fitz-Gerald, "But especially its take on the economic health of the United States since the financial crisis started."
What ultimately drove silver down so far, so fast, was pure volatility. It takes its cue from gold prices, which will get a boost from uncertainty in the dollar markets as a hedge. Silver is a much thinner market, so it will move up and down with the price of gold, but will see more pronounced movements on both ends.
Gold Forecast 2015: After finishing down for 2014, gold has rounded out its third straight year of weakness. That makes 2015 all the more crucial. Precious metals investors are wondering if the yellow metal is done consolidating...here's our outlook.
[epom key="ddec3ef33420ef7c9964a4695c349764" redirect="" sourceid="" imported="false"]
It may be difficult to decide how to invest in silver with such volatility in 2015. But if anything, this episode of violent price swings should serve as a moment to reiterate the value of silver to an investor's portfolio.
Silver's not a speculative vehicle for most investors. It's a long-term hedge against any crisis that threatens the U.S. dollar. A good ratio to use for gold holdings is 1-to-10 to bond holdings, according to Fitz-Gerald. And silver holdings should be less.
When it's all taken together, silver should be such a small part of a portfolio that these declines should be more than made up for by the great gains we've seen out of the top stocks this past week.
Higher gold prices do not always mean higher demand...You'll want to determine how much of gold price movements are influenced by demand, and how much comes as a result of a weakening dollar. And the best way to do that is to understand gold price trends...