Our 2015 stock picks have seen some impressive returns so far - mostly on gold miners and biotech. But the picks topping our 2015 stocks to buy list have also been the most volatile. Either they're mid-caps, or they've been in sectors that are subject to big gains (and possibly big losses).
Now, we're not down on either biotech or gold miners. Both have had an outstanding start to 2015, and we'll stand by both sectors as good investments. Among those names are solid companies like Gilead Sciences Inc. (Nasdaq: GILD).
But this week there was an exciting development in our list of top 2015 stock picks: the entrance of mega-cap Boeing Co. (NYSE: BA).
The commercial jetliner manufacturer has always been one of our favorite stocks. This is all in spite of its trials and tribulations over the last couple years.
In Jan. 2013, a parked Japan Airlines 787 at Logan Airport in Boston caught fire. It wasn't carrying any passengers at the time, but faulty batteries caused the grounding of 50 Dreamliners.
The negative publicity continued throughout 2013, with another battery fire and two crashes in the summer.
But Money Morning Executive Editor Bill Patalon knew to look beyond the incidents when evaluating BA's value.
"I've seen these kinds of media 'feeding frenzies' take hold more times than I can count," Patalon said. "They take on a life of their own - meaning that facts, logic, and context can fall by the wayside."
Here's the thing. If you had gotten out of Boeing stock in Jan. 2013 when the bulk of the negative media coverage began hammering shares, you would have missed out on a stock that doubled over the next two years.
Boeing stock in 2015 has already surged ahead 13.7%.
That's because despite past troubles, Boeing continues to grow sales figures. With earnings in the last week, we saw Boeing grow revenue by 5% in 2014, and earnings by 14%. Its resilience proves why it's one of our 2015 top stocks to buy.
"It's a huge force to reckon with in commercial jetliners, which are experiencing a boom right now," said Money Morning Defense and Tech specialist Michael Robinson. Boeing predicts global air traffic will grow at 5% a year for the next two decades.
That's not all. There are two more exciting numbers coming out of Boeing...
2015 Stock Picks: Why Boeing (BA) Is Up 14%
Another healthy Boeing figure is its backlog. This past quarter, Boeing's backlog grew to a record $502 billion.
This means "it can operate at full capacity through the end of the decade," Patalon said. "That gives the company "earnings visibility" - the kind of profit predictability Wall Street loves."
And the other important number from the fourth quarter is 25. Boeing increased dividends by 25% in December to $0.91 a share. This brings its dividend yield to around 2%.
But beyond dividends, Boeing also authorized stock buybacks of up to $12 billion.
"The bottom line: Not only is Boeing a company that's going to deliver strong revenue and profit growth in the years to come, but it's also going to look for ways to continue rewarding its shareholders via additional buybacks and dividend increases," Patalon said. "That's a powerful combination for investors. And a winning formula for wealth."
To see how our top 10 2015 stock picks are performing, in addition to Boeing's exciting run, check out the chart below: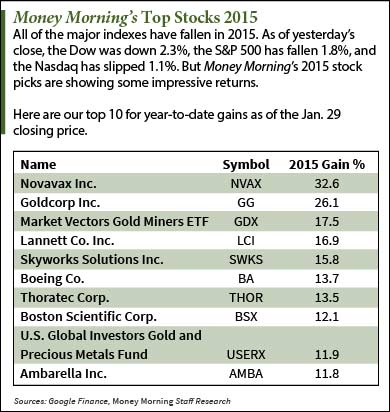 Another stock is getting caught up in an unnecessary media frenzy... Alibaba stock took a beating yesterday after it failed to live up to quite lofty expectations. This is all despite the fact that revenue was up 40%. Not all western investors "get" Alibaba. Don't let bad publicity cause you to flee from such an exciting stock...