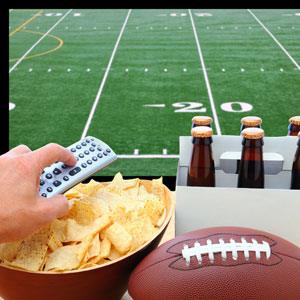 Super Bowl XLIX aired on Feb. 1, and with it, 56 Super Bowl ads.
Each 30-second spot cost an average $4.5 million, up from $4 million in 2014. And while viewership numbers aren't out yet for 2015, last year's Super Bowl wrangled more eyes than the Oscar, Emmy, and Golden Globe awards combined.
While we love a roundup of "best and worst Super Bowl ads," beyond entertainment, there's a whole other side of the Super Bowl ad game. It tells us something about the advertisers - where are companies investing their money in 2015? How will they try to reach consumers?
In other words, here's where the ad profits are for investors...
Super Bowl Ads 2015: Three Investing Trends Revealed
No. 1: Mobile Rules in 2015
Super Bowl ads last night sent a strong signal that it is indeed all about mobile in 2015.
The tech subsector will make or break companies this year - something you may have already noticed in the first round of 2015 earnings.
Just look at some of these headlines: "Facebook's Mobile Revenue Climbs to $2.5 Billion as Ad Prices Soar" from Advertising Age; "Apple Smashes Forecasts, Selling 74.5 Million iPhones in Q1" from Forbes; "Amazon Pilots Visual, Mobile-Only Affiliate Product" from Tech Crunch; "Yahoo's Mobile Sales Now Make Up 20% of Total Revenue" from Wall Street Journal; and "Alibaba drops on Revenue Miss, Margin Held Up, Mobile Mix Up" from Barron's.
So what did we see last night?
T-Mobile (NYSE: PCS) took up two ad spots, but the real shocker was three mobile gaming companies had spots. That means you consumed $16 million worth of ads about phone games last night.
"Game of War" aired a 30-second ad during the first quarter of the game that featured Kate Upton and clips of in-game footage. Then in the third quarter, "Clash of Clans" aired a 60-second spot in which Liam Neeson threatened in-game competitors (this was actually the author's favorite ad all night). And in the fourth quarter, "Heroes Charge" aired a 15-second spot.
And Mophie, which makes cases that extend a phone's batter life, had a 30-second ad ("What would the world look like if God's phone died?").
"We are now well on our way to having some 3.5bn to 4bn people on earth with a smartphone - there are probably 2bn today," tech-focused venture capitalist and analyst Benedict Evans told Venture Beat on Jan. 11. "For the first time ever, the tech industry is selling not just to big corporations or middle-class families but to four fifths of all the adults on earth - it is selling to people who don't have mains electricity or running water and substitute spending on cigarettes for mobile... So there will be something like 5 times more smartphones than consumer PCs and those devices are always with you and, with all their apps and sensors, are much more sophisticated than PCs ever were, seen as internet devices."
Two more important trends for investors came across in last night's Super Bowl ads...