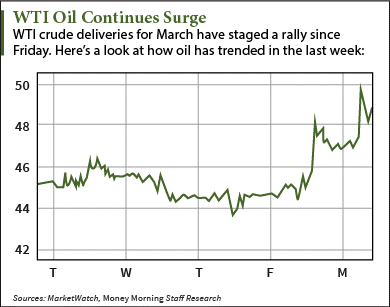 Why oil prices are up today: Oil keeps climbing today (Monday) following the largest union strike in 35 years.
Early Monday morning, WTI oil prices rose 2.5% to $49.45 a barrel after jumping 8.3% Friday. That's the commodity's biggest jump since June 2012. Brent oil prices climbed 3.4% to $54.77, their highest price in nearly a month.
Why Oil Prices Are Up Today
Today's surge comes on the second day of the biggest U.S. oil workers' strike since 1980. About 3,800 United Steelworkers (USW) union members walked off nine refineries on Sunday. USW said it "had no choice" after failing to agree on new contracts offered by lead negotiator Royal Dutch Shell Plc. (NYSE ADR: RDS.A, RDS.B).
The strike threatens to disrupt as much as 64% of total U.S. fuel output.
The union brought 36 issues to the table covering a wide range of demands. They include annual pay raises double the size of those in the previous contract, a policy to stop workplace fatigue, and reductions in out-of-pocket healthcare payments.
Make 2015 Your Wealthiest Year Yet: Turn 2015 into your most profitable year yet by simply employing a good investing strategy. That means avoiding these three mistakes and pursuing these five stocks - all of which will guarantee huge returns...
[epom key="ddec3ef33420ef7c9964a4695c349764" redirect="" sourceid="" imported="false"]
"The problem is that oil companies are too greedy to make a positive change in the workplace," said Tom Conway, the USW international vice president of administration, to TIME. "They continue to value production and profit over health and safety, workers, and the community."
News from Friday also fueled today's oil-price rally. In its Jan. 27 report, Baker Hughes Inc. (NYSE: BHI) said the number of U.S. oil-drilling rigs fell 7% to 1,223. That's the lowest total in three years. The drop supported the notion that production cuts will soon balance the market.
Morgan Stanley (NYSE: MS) analysts disagree. According to The Wall Street Journal, the bank said any near-term oil rally would be bearish for the second half of 2015. Higher prices would prevent the type of investment cuts required for long-term balance.
But Money Morning's Global Energy Strategist Dr. Kent Moors says that "crude has the ability to quickly self-correct." Plus, the oil supply glut story is completely overblown. Demand is set to climb to 93.5 million barrels a day in 2015 and will outpace supply. Get the truth about oil prices in 2015 here - you'll also get two companies that will profit as oil M&A spikes...
Follow me on Twitter: @AlexMcGuire92
Related Articles: