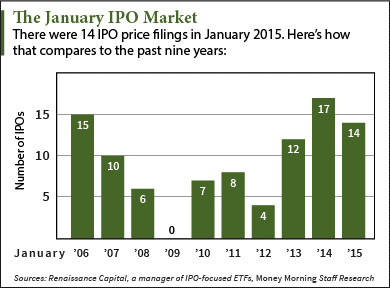 There are 10 new IPOs this week on the debut calendar. They're expected to raise a combined $1.4 billion.
According to Renaissance Capital, a manager of IPO-focused ETFs, January saw a total of 14 IPO pricings. But Shake Shack Inc. (NYSE: SHAK) and Spark Therapeutics Inc. (Nasdaq: ONCE) stole the spotlight. Those stocks both priced 40% above their proposed midpoints. They were also the first two IPOs to soar more than 100% on the same day since July 2000.
Leading the pack this week are two high-yield investments: Columbia Pipeline Partners LP (NYSE: CPPL) and Easterly Government Properties Inc. (NYSE: DEA). Those two offerings alone are expected to bring in 70% of this week's total funds raised.
Here's a look at the rest of the upcoming IPOs this week...
10 Upcoming IPOs This Week
Columbia Pipeline Partners LP (NYSE: CPPL) is a master limited partnership (MLP) and subsidiary of energy holding company NiSource Inc. (NYSE: NI). The MLP owns a 15% interest in 15,000 miles of interstate pipelines. It also owns one of the largest natural gas storage systems in the United States. Columbia Pipeline Partners plans to raise $800 million by offering 40 million shares at a $19 to $21 price range. The company has a market value of $1.9 billion. CPPL stock will debut Friday, Feb. 6.
Easterly Government Properties Inc. (NYSE: DEA) is a real estate investment trust (REIT) that leases office space and other properties to government agencies. Easterly owns 29 properties across several states, primarily California, Texas, and Virginia. The REIT offers a high yield of 5.5%. It plans to raise $180 million by selling 12 million shares at a price range of $14 to $16. The company is currently valued at $568 million and its stock will begin trading Friday, Feb. 6.
DEA joins a long list of REIT IPOs that have flooded the market in the past few months. In November, the Paramount Group Inc. (NYSE: PGRE) IPO raised $2.3 billion. That was the largest IPO ever for a U.S. REIT. Store Capital Corp. (NYSE: STOR) is up 17.7% since its Nov. 18 debut. In its debut last Friday, electric infrastructure REIT InfraREIT Inc. (NYSE: HIFR) traded up 16% from its opening price of $23.
Money Morning Members: Continue reading for eight more IPOs this week. For those new to Money Morning, sign up to keep reading - it's completely free...