The Bitcoin price chart for January shows volatility is still a major factor slowing the digital currency's progress.
The price chart shows how Bitcoin started the month at $318.23, according to data from CoinDesk. Over the next two weeks it slid 46% to $172.28. For the next 12 days Bitcoin zoomed back up 78.3% to $307.16. Then it slumped 29.4% over the final five days of the month.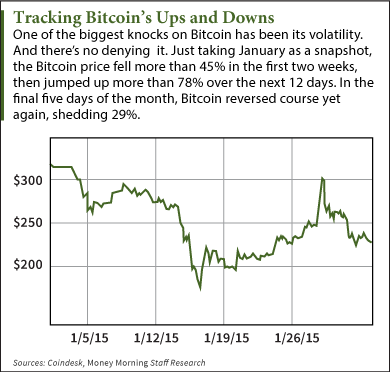 And in the first few days of February the price of Bitcoin has reversed direction again, rising as a high as $245, for a gain of nearly 13% in three days.
Unfortunately, that's been the norm for Bitcoin through most of its six-year life.
For Bitcoin to gain mainstream adoption, this price volatility needs to be reduced. Bitcoin's tendency to lose 20% to 40% of its value in a matter of days, or even hours, discourages its use for daily transactions.
It's also why most of the merchants that accept Bitcoin immediately convert what they receive into a fiat currency like the U.S. dollar. Fiat money certainly has its issues, but major currencies like the dollar and euro are relatively stable compared to Bitcoin.
Now, we've told you before how the real value of Bitcoin lies not in its price, but in the underlying technology of the blockchain. While that's true, a major part of Bitcoin's utility is as a decentralized tool for transmitting money between individuals. Even applications built on the blockchain will benefit from price stability.
In that sense, the actual price of Bitcoin – whether its $100 or $1 million – matters less than getting away from the wild price swings that make it difficult to use.
But there's good news. The mechanisms to achieve Bitcoin price stability have already begun to appear…