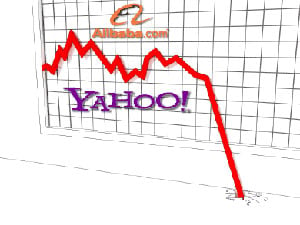 The Yahoo stock price has been relatively flat since it was hammered Thursday. It fell 6% that day to close at $43.43 - a three-month low. It closed Monday at $44.69. That's 14.7% off its highs in November.
Surprisingly, when Yahoo! Inc.'s (Nasdaq: YHOO) stock price fell last week, it did not stem from bad news about the company.
You see, there are plenty of times Yahoo's blunders have triggered a share-price drop in its troubled past. Longtime Yahoo investors will remember in 2008 when then-CEO Jerry Yang bungled an opportunity to sell off to Microsoft Corp. (Nasdaq: MSFT) at a very generous premium of 61% its trading price. The day the deal failed, the stock fell 15%. And months later, when Yang was canned - as a result of the failed Microsoft deal - the company saw one of its worst days in company history when Yahoo stock fell 21% on the day.
But instead, this particular price drop is a perfect example of the power of Yahoo's relationship with Alibaba Group Holding Ltd. (NYSE: BABA). What happened to YHOO last week was tied to a big move in BABA stock.
And despite the short-term fall in Yahoo's stock price, Alibaba is about to pay off big for Yahoo shareholders - again - in 2015...
What Really Lowered Yahoo's Stock Price
The main reason behind Yahoo stock's fall is its 15% stake in Alibaba, the fast-growing Chinese e-commerce giant. This stake causes Yahoo's share price to move in unison with Alibaba stock. Investors see Yahoo as a way to buy BABA stock at about half the share price...for now.
But even strong stocks like BABA get tripped up.
On Wednesday, the Chinese government leveled harsh accusations against Alibaba's flagship consumer sales portal, Taobao.com (essentially, China's answer to Amazon.com - but bigger). Among them was a charge that vendors were using the website to sell counterfeit goods and cheap knockoffs.
This sent Alibaba's stock price down 4.4%, below $100, on the day.
But that opening salvo was followed by even bigger bloodbath Thursday when earnings came out.
Wall Street expected about 50% revenue growth year-over year. When Alibaba reported 40%, analysts highlighted the disappointment. Investors fled. The Alibaba stock price fell another 8.8%. It fell below $90 for the first time since October.
To be clear, Alibaba reported solid earnings. Revenue was up 40%. Mobile revenue was up 448%.
"Bottom line is the headlines read that 'Alibaba Missed Expectations.' The headlines should read 'Analysts Got It Wrong Again,'" Money Morning's Chief Investment Officer Keith Fitz-Gerald said. "Alibaba is a growth company and like other growth companies, quarterly numbers are almost meaningless."
Alibaba's long-term potential remains solid - we detail that here. That's why the Alibaba purchase was by far Yahoo's best move.
And Yahoo CEO Marissa Mayer just gave YHOO investors a better idea of how the company will share its Alibaba value...