The Dow Jones erased a 100-point gain Wednesday to end the day just 6 points higher than where it started. What happened? Investors turned cautious as oil prices fell once again.
Today's Scorecard:
Dow: 17,672.03, +6.62, +0.04%
S&P 500: 2,041.51, -8.52, -0.42%
Nasdaq: 4,716.70, -11.03, -0.23%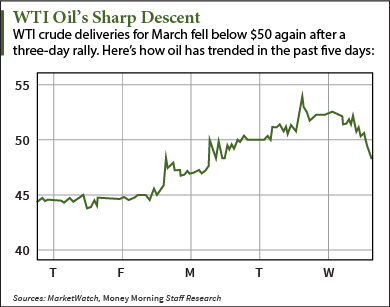 The S&P 500 and Nasdaq were negative today on falling energy prices and declines in the biotech sector.
West Texas Intermediate prices fell more than 8% this afternoon on news that crude oil inventories rose by another 6.3 million barrels last week, according to the Energy Information Administration.
The S&P 500 Volatility Index (VIX), the market's fear gauge, rose more than 5% on the day.
What Moved the Markets Today: A $6.3 billion merger between two office retailer giants led the headlines on a mixed day of trading. Staples Inc. (Nasdaq: SPLS) will take over Office Depot Inc. (Nasdaq: ODP) in a cash-and-stock deal, which is expected to receive little regulatory resistance.
Falling crude oil prices drove down energy stocks during the day, while shares of Gilead Sciences Inc. (Nasdaq: GILD) cratered more than 8% after the company reported mixed results for the fourth quarter.
Now, check out the other top market stories – plus get our new profit tip for investors: