The gold price today jumped $10, or 0.80% to $1,271 an ounce in morning trading. The gains came despite typical headwinds for the yellow metal: a stronger dollar and slipping oil prices.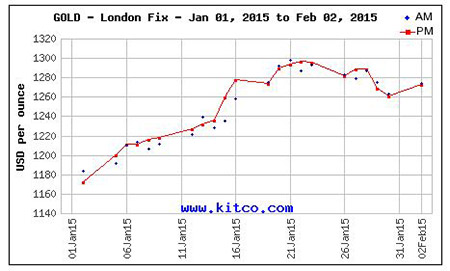 The yellow metal gave back some of those gains in the afternoon session. Just before 1 p.m., gold was hanging on to a $2.70 rise at $1,263.80.
This follows gold's sharp decline on Tuesday. Gold slumped $18.80, or 1.3%, yesterday as investors' appetite for riskier assets, including stocks, increased. The Dow Jones Industrial Average added $305.36, or 1.8%, Tuesday as oil continued to march over $50 a barrel.
There were three factors boosting gold prices today:
The Chinese New Year: TD Securities said in a report released today that gold prices are up in China. That trend is expected to remain in place ahead of the Chinese New Year, which begins Feb. 19. Gold is frequently given as a gift during the festivities. "We could very well see $1,300 gold in the coming weeks," Steve Scacalossi of TD Securities, wrote in the report.
China's Central Bank: The People's Bank of China eased its monetary policy Wednesday. It trimmed the reserve requirement ratio for domestic banks by 50 basis points to 19.5%. It's the PCOB's latest move to goose China's slowing economy. China's economic growth slowed to 7.4% in 2014, hitting a level not seen in a quarter century and firmly marking the end of a high-growth heyday. The move is also bullish for gold, as well as the overall commodity sector. China is a major raw commodity importer and consumer.
Increasing Imports in India: India imported nearly 50% more gold in the first 10 months of its current fiscal year than the year before, up to 945 tons already. The import surge came after India's government eased curbs on how much gold was allowed in to the country. India's gold import totals are the second largest in the world, behind only China. India accounted for 25% of global gold demand in 2013, according to the World Gold Council. "Imports may be around 1,000 tons this fiscal year and remain stable next year unless we see any fresh government regulations coming in," Madhavi Mehta, an analyst at Kotak Commodity Services, told Bloomberg.
Gold Price Update for 2015