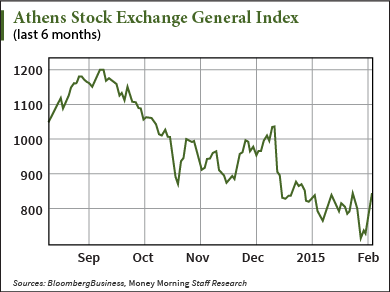 Greek stocks started a rally last week when Yale University economist Robert Shiller joined a chorus of voices calling Greek stocks undervalued.
Investors took note. In the last week, the Athens Stock Exchange General Index climbed 19.3% through the Feb. 4 close. This was after it bottomed out from a 41% freefall that began in September 2014.
Today, Greek stocks are finally retreating. And the reason for the pullback highlights the problem with the Greek market rally...
You see, this rally was built on misplaced optimism for what the new government can accomplish. None of Greece's issues have been solved.
The unwarranted fervor for the Greek stock market was sparked by a procession of experts touting Greece as oversold. It was aided by a veneer of "fruitful" talks between Eurozone officials and the new Greek Syriza government.
But the Syriza has been meeting with EU officials all week to discuss relief to the debt-ridden Greece. Today (Thursday) they faced their toughest challenge: Germany.
It turns out the Germans aren't as thrilled to greet the Syriza party as European Union (EU) officials were, especially when all this talk of Greek debt restructuring will likely hit the Germans hardest.
A closer look at the recent Greek elections shows this is just the start of problems for Greece...
Don't Fall for the Greek Stocks Rally
Greek voters tossed out the status quo in the Greek political arena last month when they voted to power a far-left party. The initial uncertainty of a ruling, anti-austerity Syriza drove the Athens Stock Exchange to new lows.
You see, since the onset of the Eurozone financial crisis, Greece has stayed afloat through emergency lending and bailouts. These programs have been authored by the troika - the European Central Bank, the European Commission, and the International Monetary Fund.
The catch: Greece could only receive bailout money if it met strict austerity conditions. These austerity measures have largely been blamed for the social unrest and elevated unemployment in Greece.
Newly elected Prime Minister Alexis Tsipras has pledged an end to austerity. That helped win him the election.
He also promised he would renegotiate the terms of Greece's debt. Particularly, he promised to restructure 240 billion euros worth of loans from the troika. All of this while, he said, abandoning austerity.
The new Greek government has conducted talks with members of the troika since the election. The two sides have actually been hitting it off. Tsipras is optimistic that he can make it work. And the new finance minister Yanis Varoufakis said his meetings have been productive.
But today showed this honeymoon is already ending...
Danger Lurking Behind Greek Market Rally
[epom key="ddec3ef33420ef7c9964a4695c349764" redirect="" sourceid="" imported="false"]
The Eurozone's initial embrace of the Syriza was knocked off kilter today. Greece's Varoufakis confronted Berlin and its standard bearer of fiscal prudence and responsibility, finance minister Wolfgang Schäuble.
Schäuble was a lot less conciliatory than the EU officials who considered their discussions productive.
Greece has less than a month left to take advantage of emergency lending facilities with the ECB. At expiration, Greece will be without an important lifeline to its finances.
It was bad enough for Greece that the ECB already rebuffed Varoufakis's recent plan to issue 10 billion euros ($11.4 billion) of Greek debt to the ECB before emergency lending is cut off. But Germany was even more unmoving at today's discussions.
"We went as far as we could last time," Schäuble said, according to the Financial Times. "We can only provide help for people to help themselves."
The Athens Stock Exchange Index has fallen 3.3% today.
Stay Away from the Greek Stock Market... It's not worth it. You're better off finding companies that have proven track records and are poised for growth. For example, one of our favorite mega-caps is already surging ahead this year. Check it out here, and leave Athens to the market speculators...