Twitter earnings were released Thursday afternoon for the fifth time since its November 2013 initial public offering. Twitter stock fell nearly 7% after hours, immediately following the release. Within 20 minutes, it bounced back positive to a 7% gain.
Don't be fooled by the jump. The first reaction - the negative one - is more indicative of where TWTR is headed long term. Here's why...
The microblogging site spent the last few weeks of Q4 2014 buttering up investors with a flurry of news that has driven TWTR stock up more than 13% in the last month:
Users got group direct messaging, a missed tweet function, and real-time video uploads.
Twitter announced it will sell ads outside its own platform, which should allow it to profit outside its own user base.
The company struck a deal with Google Inc. (Nasdaq: GOOG, GOOGL) that will make tweets a prominent feature in Google search engine results.
An internal management shake-up continues. The company promoted head of revenue products Kevin Weil, a much-respected exec within, to head of consumer products.
It's with good reason the company filled the air with distractions ahead of TWTR earnings today.
You see, Twitter has a user growth problem - a big one. Users are dropping the service and/or reducing activity. To boot, there's a learning curve problem that thwarts potential new customers from coming aboard.
This is reflected in all but one of the previous four Twitter earnings since it became a publicly traded company:
Q4 2013 (released Feb. 5, 2014): Slower-than-expected user growth caused the stock to dip as much as 18% in after-hours trading.
Q1 2014 (April 29, 2014): Despite doubling revenue, TWTR stock fell more than 12% after reporting monthly active users (MAUs) of 255 million, below projections of 257 million.
Q2 2014 (July 29, 2014): This was the only quarter Twitter nailed since going public. It reported 271 million MAUs, above an expected 267 million. It also reported timeline views of 173 billion, better than consensus estimates of 171 billion. Twitter stock surged more than 25% after hours.
Q3 2014 (Oct. 27, 2014): Twitter met analyst expectations, but that wasn't good enough. Investors wanted a beat. The company added 13 million new users, down from 16 million it gained the previous quarter. Shares slumped 10% after hours.
Today, the company's history of meeting (even surpassing) its financial goals, and missing on user growth, continued.
Here's a breakdown of the numbers that shows why anyone who tries to bet on Twitter stock for the long term is likely to get burned...
Twitter Earnings Today Beat - Except on All-Important User Growth
Twitter Inc. (NYSE: TWTR) reported Q4 MAUs of 288 million - seven million under analyst projections. That's a loss of roughly 4 million net MAUs in Q4. Twitter cites "third-party integrations" as cause for the drop. MAUs are up 20% compared to a year ago, but that growth continues to slow.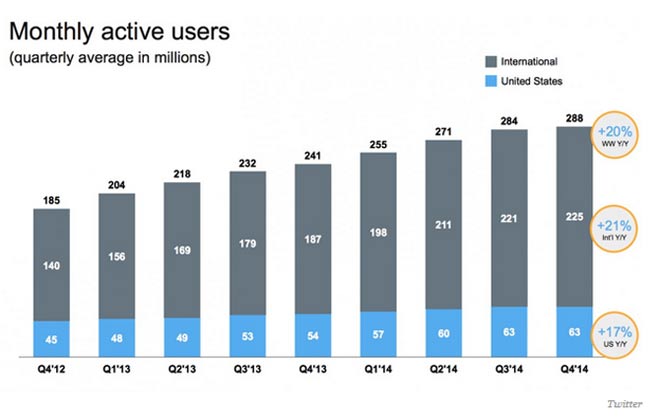 The social media company did beat on earnings per share (EPS) and revenue. It posted EPS of $0.12 on revenue of $479 million. That's both a top- and bottom-line win over analyst expectations of $0.06 on revenue of $453.6 million.
"We closed out the year with our business advancing at a great pace. Revenue growth accelerated again for the full year, and we had record quarterly profits on an adjusted EBITDA basis," Twitter CEO Dick Costolo said. "In addition, the trend thus far in Q1 leads us to believe that the absolute number of net users added in Q1 will be similar to what we saw during the first three quarters of 2014."
Money Morning Chief Financial Strategist Keith Fitz-Gerald talked Twitter recently on Dec. 18. He stressed the importance that the company has yet to deliver on its promise to grow user base exponentially.
"No matter what fancy Silicon Valley terminology you want to put on it, the company is like a gigantic used car lot in that they've got to convert tire kickers into buyers or they go out of business," Fitz-Gerald told readers.
Cash in on Tech Stocks in 2015: All the ingredients are now present for a multiyear run in tech stocks that will dwarf anything we've seen before - creating a slew of new tech millionaires. Make the right moves and you can be one of them. Tech expert Michael Robinson will show you exactly what to do with his just-released 2015 Tech Investor's Forecast...7 specific tech stocks to buy right now that could create Alibaba-like wealth this year. Download it here for free...