The Dow Jones today shed 60 points. The cause? Standard & Poor's downgraded Greece's long-term sovereign-debt rating.
The news offset early gains fueled by U.S. jobs and wage growth. January was the 11th consecutive month of U.S. job gains above 200,000.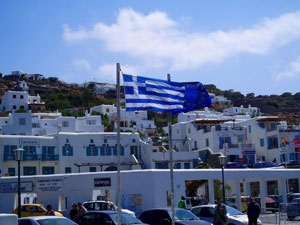 Today's Scorecard:
Dow: 17,824.29, -60.59, -0.34%
S&P 500: 2,055.47, -7.05, -0.34%   
Nasdaq: 4,744.40, -20.70, -0.43%   
What Moved the Markets Today: The Greek debt downgrade came after Greece's new leftist government vowed to reject any deal that would maintain the terms of its current international bailout program.
Despite increased isolation from its Eurozone partners, Greek Finance Minister Yanis Varoufakis said he would seek a "bridge agreement" to stabilize the country's finances until the nation can propose a new plan to address its debts. The ratings agency didn't like the sound of that and downgraded the nation's long-term debt to B-minus from B.
The January U.S. jobs report came in with the economy producing more jobs than analysts expected. The U.S. created approximately 257,000 jobs, topping consensus expectations of 234,000. The unemployment rate climbed from 5.6% to 5.7% due to a rise of Americans entering the workforce.
Following the jobs report, futures contracts priced into the market the expectations that the U.S. Federal Reserve will raise rates a second time by December 2016. The markets already expect one rate increase by October 2016.
Now, check out the other top market stories – plus get our new profit tip for investors: