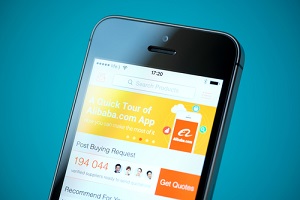 Alibaba Group Holding Ltd. just picked up a major catalyst for the BABA stock price – despite the market's muted reaction to the news…
The BABA stock price was up 1% this morning (Tuesday), one day after (NYSE: BABA) invested $590 million in Chinese smartphone-maker Meizu.
As Money Morning experts have been telling readers for months, the mobile market will be the biggest catalyst for the Alibaba stock price.
And this week's deal highlights how…
BABA Stock Price: Behind the $590 Million Purchase
Meizu develops smartphones for the Chinese market and is based in Guangdong, China. Alibaba did not disclose its stake in the company, only that it had purchased a "minority" stake for $590 million.
According to Reuters, the partnership will bring Alibaba's mobile operating system Aliyun OS to Meizu's devices. Meizu, in turn, will now have access to Alibaba's e-commerce platforms.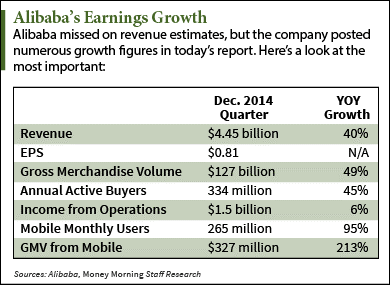 While the deal comes with a large price tag, Meizu is actually a small company. It represents less than 2% of China's smartphone market. In January, Meizu said it delivered 1.5 million Android-based smartphones domestically.
That's compared to Xiaomi Inc., China's largest smartphone developer, which plans to sell roughly 100 million smartphones in 2015.
The top five Chinese smartphone retailers in China are Xiaomi, Huawei Technologies Co., Lenovo Group Ltd., Apple Inc. (Nasdaq: AAPL), and Samsung Electronics Co. Those firms represent 60% of the Chinese market combined.
So it's not like a minority stake in Meizu will suddenly help Alibaba leapfrog China's biggest mobile players. View the purchase more as another step in Alibaba's move to mobile.
In the last year, Alibaba has spent heavily to strengthen its mobile base. First, it spent $1.9 billion on the mobile web developer UCWeb. Then it spent $215 million for a minority stake in the messaging app Tango.
And so far those moves have paid off…
Mobile Growth Remains BABA Stock Price's Biggest Key
In its last earnings report, Alibaba reported mobile monthly active users hit 265 million. That was a yearly increase of 95%, and a 22% increase from last quarter.
Gross merchandise volume (GMV) from mobile users hit $327 million. That was up 213% from 2013 and 64% from Q2. Now mobile users account for 42% of Alibaba's total GMV. It was only 35.8% in its previous report.
Alibaba Group Holding Ltd. (NYSE: BABA)
Recent Price: $87.01
Market Cap: $214.43 billion
Institutional Ownership: 18%
Profit Margin: 38.09%
Operating Margin: 36.95%
And that move to mobile is incredibly important for BABA stock. Right now, the global mobile market is growing at a staggering rate.
According to the research firm Gartner, mobile payment transactions will grow by 35% annually through 2017. The global market for mobile payments will reach $721 billion by the end of 2017.
And as Money Morning's Chief Investment Strategist Keith Fitz-Gerald explained in January, there's another reason mobile is so important to Alibaba.
"In contrast to the west that grew up on landlines, you have whole cities in China that have never known landlines and have gone straight to mobile," he said. "You have an incredible incentive to grow that pathway there. The mobile user base in China alone dwarfs the entire U.S. user base, mobile or not."
What that mobile growth tells us is Alibaba stock remains one of the best long-term buys right now…
BABA Stock Price Forecast for 2015