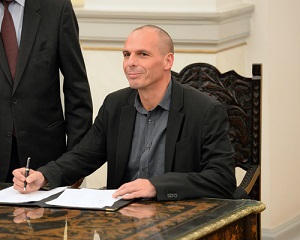 Financial News Today: The Greek debt talks looked promising today (Tuesday) - for a little bit. That was before conflicting reports and a German rebuttal pulled the rug out from under positive momentum.
You see, Athens is running out of cash to pay its debts. And the liquidity window that the European Central Bank has extended to Greece is set to close in a couple weeks. Greece ultimately wants a debt restructuring deal. But it doesn't want the attached austerity conditions.
Greece's new finance minister Yanis Varoufakis - a product of the far-left, anti-European Union Syriza party's parliamentary election victory last month - has become the spokesman for Greek demands. He wants a 10 billion euro ($11.3 billion) deal. At least to hold Greece over for the next six months as more meaningful debt negotiations take place.
As talks ahead of tomorrow's crucial Eurogroup summit took place behind the scenes, reports looked good. Greece looked like it was going to get that 10 billion euro bridge loan. And what's more - it wasn't going to have to stomach the full blow of the very austerity that they've blamed for the worsening economic situation.
Markets liked what they heard. The Dow Jones today opened up 7 points. The Athens Stock Exchange Index soared 8%.
But as the day wore on the reports became more grim...
Unnamed EU sources said the reports of a Greek debt deal were misleading, according to MNI.
One European official said, "There is no plan." And much more discouraging, he added "the Greeks are digging their own graves."
And later, the ever-unmoving German finance minister Wolfgang Schäuble chimed in. He reportedly said there was no chance of such a deal.
So, what's actually going on in the Eurozone right now?
It's confusing, but it's important to understand who's really "digging their own graves."