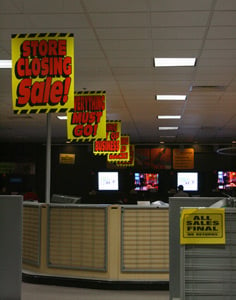 Next companies to go bankrupt 2015: RadioShack's story screams a lesson to companies everywhere: "Adapt or Die."
RadioShack Corp. (OTCMKTS: RSHC) took another step in its demise on Feb. 5, 2015 when it filed for Chapter 11 bankruptcy.
The formerly wildly popular electronic store hit its heyday in the mid-70s for its mass popularity of citizens band (CB) radio. Back then, citizens band radio made up for 30% of the chain's revenue. In 1977, it introduced one of the first PCs - the TRS80. Over the years, RSHC also became a top seller of the Walkman, CD players, mini-disk players, and beepers.
But RadioShack's popularity has waned in the new millennium. The company has failed to turn a profit since 2011. It made a last-ditch attempt to become lucrative by adding 3-D printers, drones, and wearable cameras to its online inventory in 2014. The efforts were simply too late.
On Feb. 17, 2014, the franchise begins its first wave of closings with 162 locations. The second wave on Feb. 28 saw 986 store closings. The third and final purge came in late March, when 636 more stores were shuttered.
The rise of the digital age and e-commerce played into RadioShack's demise. On Dec. 12, 2013, Warren Shoulberg of The Robin Report stated that "[RadioShack is] a store that has been passed by, with a format, merchandise mix, and physical presence that no longer registers with the American consuming public."
Shoulberg said RadioShack's biggest issues were its outdated stores, old-fashioned merchandise, clueless employees, and lack of general focus.
Unfortunately, a few retailers haven't gotten the "adapt or die" message.
They made our list of the next companies to go bankrupt in 2015...
After RSHC, the 5 Next Companies to Go Bankrupt in 2015
Companies on Bankruptcy Watch No. 1: Aeropostale Inc. (NYSE: ARO)
Aeropostale manufactures and markets clothing for the teenage and young adult demographic.
However, the company's chief competitors - Forever 21 Inc. and H&M Co. Inc. - offer just as fashionable clothing at much cheaper prices. Plus, the overall teenage fashion aesthetic has changed, while Aeropostale's has not. The company continues to produce and market clothing that prominently displays the brand's name, which has long gone out of style.
Aeropostale racked up $77 million in losses in the most recent quarter (Q3 2014). That's more than six times its previous third-quarter loss of $12 million in the same period the year before.
With only $24.5 million in liquid cash, the company announced it secured $150 million in financing from a private equity firm on March 20, 2014.
ARO stock has lost more than 60% in the last 12 months.
Companies on Bankruptcy Watch No. 2: Sears Holdings Corp. (Nasdaq: SHLD)
The American holding company that operates and owns 4,000 retail locations, including Kmart, is struggling in the "big-box" retail segment. It's lost ground to Target Corp. (NYSE: TGT), Wal-Mart Stores Inc. (NYSE: WMT), Amazon.com Inc. (Nasdaq: AMZN), and even JC Penney Co. Inc. (NUSE: JCP) because it hasn't adapted to the internet shopping boom.
CEO Edward Lampert has also failed to come up with a winning turn-around strategy. He attempted a membership club in hopes it would turn the business back into the buying club it once was, but it never caught on. SHLD generated negative operating cash flow of close to $2 billion in 2014. SHLD stock has fallen 7.5% in the last 12 months.