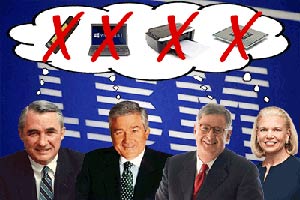 International Business Machines Corp. (NYSE: IBM) is no Apple. And it's no Google.
IBM is unexciting. It's often described as a "dinosaur" for its history of falling behind the hottest tech trends.
As the tech sector continues to unveil sleek new devices like smartphones and tablets, and begins making forays into wearable tech, IBM is nowhere to be found.
IBM is instead rolling out the same six-and-a-half-foot, three-ton mainframes it has been famous for since the 1950s. The rest of its business focuses on consulting and software.
Here's the thing - IBM has a notorious record for spotting the trends, but forfeiting any dominance due to a slow bureaucracy and a lack of zeal. This pattern often relegates IBM to a lesser role in the tech market - as a servicer not an innovator - while an Apple or a Google steal the spotlight.
And while Apple stock is up 61% in the past year, IBM stock has slipped 11% - with more losses likely ahead.
Perhaps if IBM had made just one of these four tech trends work in its favor, we'd be looking at a much different Big Blue...
IBM Blunder No. 1: IBM's First - and Last - Smartphone
In November 1993, in partnership with BellSouth Cellular Corp., IBM unveiled what USA Today then dubbed as a "super-phone." By any measure, it was the first smartphone.
The Simon, as it was called, had a touch-sensitive screen on the handle. It was eight inches long, weighed 18 ounces, and had one megabyte of memory. It had an on-screen touch pad, and allowed users to access contacts and a personal calendar. With a stylus, the Simon also allowed users to write notes and send faxes. It cost $1,000.
The companies planned to start shipping Simons in March 1994. But struggles with its faxing capabilities kept it from going to market on time.
And when reviewers got their hands on it, it was decimated. It was expensive at $1,000 (later knocked down to $599). The software was lacking. The battery life was short. And it was agonizingly sluggish.
After selling only 50,000 units, IBM abandoned the venture. The Simon was on the market from August 1994 to February 1995.
Right now, Simon is an exhibit in the London Science Museum. Conversely, Apple Inc. (Nasdaq: AAPL) recorded record smartphone sales last month.
Smartphones are one thing, but none of IBM's blunders can top this next one...