Today, we're going to take a look at several stocks that made us gains of 50% or better in 2014 and are set for further success in 2015.
I launched my Strategic Tech Investor service in March 2013 with one goal in mind – to help you greatly improve your net worth.
My initial column was titled "The Road to Wealth Is Paved by Tech."
And that proved true through all of 2014 when nearly two dozen tech stocks I recommended beat the market – demonstrating that if you pick the right stocks and manage them properly, you can beat Wall Street at its own game.
Even better, I'll show you why these five tech stocks still have plenty of upside in 2015 and beyond.
A Good Problem to Have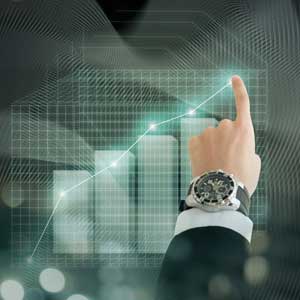 The tech-centric Nasdaq Composite Index was up 15% in 2014, so ours was no small accomplishment. And remember that the volatility we've seen over the first few weeks of 2015 really got its start early last year.
These were such big gains that, had you followed my portfolio management advice, you would have taken a "free trade" on four of these tech stocks.
The "free trade" is a very powerful tool for maximizing your profits.
It works like this. Once a stock in your portfolio has doubled in value, you automatically sell half and recoup all of your original capital.
At that point, you really are working with free money. You've covered your initial investment and are now literally playing with the "house's money."
Now, I expect even more volatility throughout 2015. But I'm optimistic that our five biggest winners of 2014 will continue to generate more profits ahead for one simple reason.
Each meets the mandate of Rule No. 3 of my five-part system for building tech wealth. That rule says to "Ride the unstoppable trends."
With that in mind, let's take a look at our five biggest winners of 2014.
Join the conversation. Click here to jump to comments…
About the Author
Michael A. Robinson is a 35-year Silicon Valley veteran and one of the top technology financial analysts working today. He regularly delivers winning trade recommendations to the Members of his monthly tech investing newsletter, Nova-X Report, and small-cap tech service, Radical Technology Profits. In the past two years alone, his subscribers have seen over 100 double- and triple-digit gains from his recommendations.
As a consultant, senior adviser, and board member for Silicon Valley venture capital firms, Michael enjoys privileged access to pioneering CEOs and high-profile industry insiders. In fact, he was one of five people involved in early meetings for the $160 billion "cloud" computing phenomenon. And he was there as Lee Iacocca and Roger Smith, the CEOs of Chrysler and GM, led the robotics revolution that saved the U.S. automotive industry.
In addition to being a regular guest and panelist on CNBC and Fox Business Network, Michael is also a Pulitzer Prize-nominated writer and reporter. His first book, "Overdrawn: The Bailout of American Savings" warned people about the coming financial collapse - years before "bailout" became a household word.
You can follow Michael's tech insight and product updates for free with his Strategic Tech Investor newsletter.