We've reached Keystone XL pipeline veto day, as the Republican-controlled Congress sends its bill approving the project to President Barack Obama this afternoon (Wednesday).
The TransCanada Corp. (NYSE: TRP) Keystone pipeline project would bring Canadian tar sands oil from Alberta to refineries on the U.S. Gulf Coast. Cross-border projects require presidential approval following a State Department review. The president has already promised to veto it.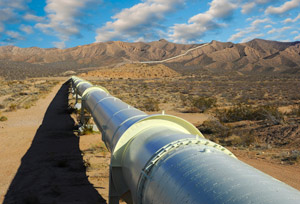 But this is not the first international pipeline project seeking approval…
In fact, in the six years since TransCanada first applied for a Keystone XL permit, the State Department has approved permits for several other cross-border pipeline projects. That adds to the dozens of cross-border pipelines that have been approved over the decades.
According to a 2013 Congressional Research Service study, 46 oil and natural gas pipelines operate across the U.S.-Canada border. If you include Mexico, the United States has 70 cross-border oil and gas pipelines.
Of course, the Keystone pipeline veto is more to appease critics who are concerned about climate change and damaging spills.
The Keystone project in question, however, would make up a tiny fraction of the U.S. pipeline miles.
Just how tiny? Take a look…
Keystone Pipeline Just a Blip on U.S. Map
According to the Association of Oil Pipelines, the United States had 60,911 miles of crude oil pipelines as of the end of 2013. The additional portion of the Keystone that needs approval would be just 1,179 miles.
And crude oil isn't the only hazardous liquid in our pipelines. Including liquid natural gas (LNG) as well as refined petroleum products such as gasoline and jet fuel, the United States had 192,396 miles of dangerous liquids pipelines as of 2013. And that doesn't count more than 300,000 miles of natural gas pipelines.
They're everywhere. Just look at this map: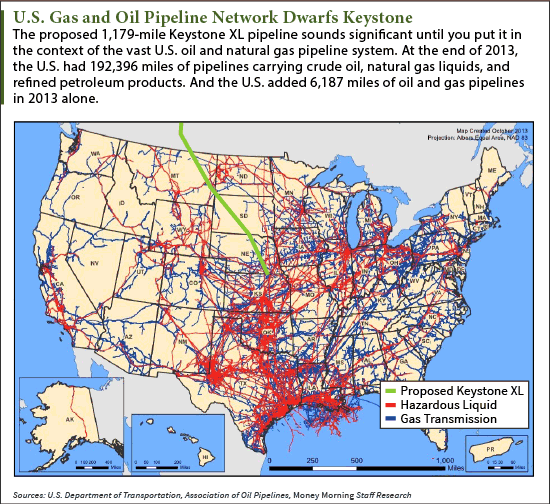 That's not all. If you include transmission pipelines – the ones that go through neighborhoods and supply individual homes – the U.S. has 2.5 million miles of hazardous liquid pipelines.
The Keystone pipeline would add 1,179 more miles. That would be:
A 1.94% increase in crude oil pipelines
A 0.61% increase in hazardous liquid pipelines
A 0.047% increase in energy pipelines of all kinds
But what's most absurd about this controversy is that an almost identical project just went operational last month.
And virtually no one noticed…
A Project Just Like the Keystone Pipeline That You Never Heard About