Apple Inc. (Nasdaq: AAPL) CEO Tim Cook played diagnostician Tuesday when he showed off the soon-to-be-released Apple Watch (set for debut sometime early this year).
Cook, at the 2015 Goldman Sachs Technology and Internet Conference in San Francisco, voiced doctors' concerns over how the average person lives too sedentary a lifestyle nowadays. That's why he is so amped about the Apple Watch's release.
"I use Apple Watch constantly in the gym to track my exercise. If I sit for too long, it will actually tap me on the wrist to remind me to get up and move, because a lot of doctors think sitting is the new cancer," Cook said. "So ten minutes before the hour, it will remind you to move. We have a lot of people using the Apple Watch at Apple, and ten minutes before the hour, suddenly they all get up and move. It took a little to get used to, but it's great."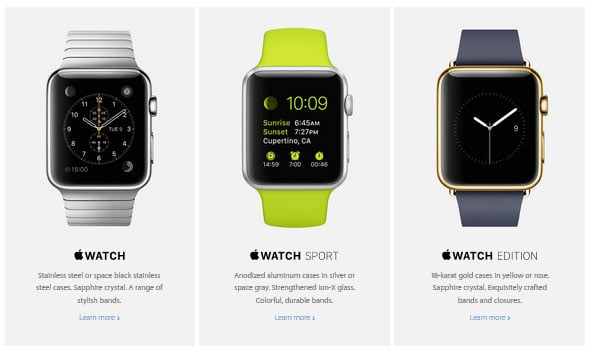 Tim Cook originally announced the Apple Watch on Sept. 9, 2014. We know it will be integrated with the iPhone, used with the new Apple Pay mobile-payments system, and loaded up with dozens of goods from the App Store. And, to Cook's point at the conference Tuesday, it may also prove a great ally to combat health problems posed by sitting too long.
But Cook promised Apple's take on smartwatches will differ from competitor products already on the market, such as Samsung's Galaxy Gear 2 smartwatch, Sony's SW2 Smartwatch, LG's G Watch, Motorola's Moto 360 Watch, and others.
He said people will find it indispensable and be surprised at "the breadth of what it can do."
"If you think about the MP3 industry, we weren't the first company to make an MP3 player, there were lots of companies in this. They weren't used very much. They were fundamentally hard to use - the user interface was bad and you almost needed a PhD to use them. They're not memorable," Cook said.
"I see the smart watch category very much like that. There are several things that are called smartwatches, but I'm not sure you could name any. There hasn't been one that changed the way people live their lives. At Apple, that's our objective. We want to change the way you live your life."
The Apple Watch shows how Cook & Co. will lead one of the most profitable trends in 2015: wearable tech.
This soon-to-be $19 billion market is a great opportunity for AAPL stock - and also for investors...
Tim Cook Taps into a $19 Billion-a-Year Industry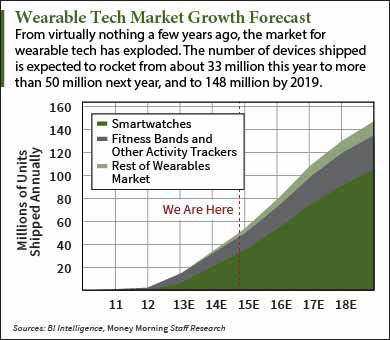 Industry forecaster Juniper Research pegged the wearable tech market to grow more by than thirteen-and-a-half times, from a $1.4 billion in 2013 to $19 billion in 2018.
This chart shows just how steep the growth curve is for the wearable tech market, going in to 2019:
BI Intelligence estimates that sales of wearable tech devices will rise from about 33 million units shipped in 2014, to over 50 million this year. It projects the wearable tech market will nearly triple by 2019, to 148 million units.
[epom key="ddec3ef33420ef7c9964a4695c349764" redirect="" sourceid="" imported="false"]
Money Morning Defense and Tech Specialist Michael Robinson has long been a fan of the thriving wearable tech market and the opportunities it affords investors.
"The tech forecasters at IDC say the wearables market will grow at a compounded annual rate of 78% for the next several years," Money Morning's Defense and Tech Specialist Michael Robinson said Oct. 14. "That means it will double roughly every 11 months."
Robinson says Tim Cook's new Apple Watch is a great play in the sector.
"I think [the Apple Watch] will be a huge success," Robinson said Oct. 8. He cited a Morgan Stanley projection that said the Cupertino, Calif.-based tech giant could sell 30 million to 60 million Apple Watches in 2015 alone.
Apple stock ticked up roughly 1.7% Wednesday after Tim Cook's talk at the Goldman Sachs conference the day before. Shares are up 12.5% year to date.
Tara Clarke is an Associate Editor at Money Morning. You can follow her on Twitter @TaraKateClarke.
Investing in Wearable Tech Today:  Apple stock is only one of five strong wearable tech stocks we've recommended investors check out right now. These four other companies - plus one ETF that casts a wider net in the still-young wearables sector - are our top wearable tech plays for 2015...