New reports from the likes of the IMF and McKinsey hypothesize that global growth rates will drop by 40% or more over the next half century. The growth-killers they point to are an overabundance of debt, unequal wealth distribution, and an aging population.
Don't fall for it.
For one thing, people have been calling for the end of things since, well, the beginning of things. The Internet and mass media merely magnify the rhetoric and give the legion of doomsayers a platform and make them harder for individual investors to ignore.
While we're at it, let me remind you that this is the same crowd calling for the end of the financial universe as we knew it in March 2009... right before the S&P 500 took off on a 180% run higher. I sure hope none of you decided to sit that one out.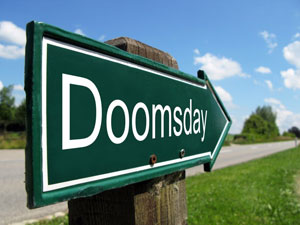 For another thing, every great crisis is, in fact, a realignment of opportunity. Weaker players get weeded out, stronger players consolidate their market share, and profits mount.
This is especially true when you understand why AND what one of the single most powerful Unstoppable Trends of all means for your money - Technology.
We're going to talk about that today and share my take on an $8 stock with the potential to set you up for profits perfectly.
First, here's the secret growth "engine" the doom-and-gloomers are missing.
The Naysayers Have a Terrible Track Record
The alarmists sure are convincing.
A new McKinsey Global Institute Report is particularly grim. According to the world class consultancy, global growth will falter, bringing with it a roughly 20% decrease in GDP per capita over the next 50 years due a nasty combination of shifty global finances and an aging population.
To hear McKinsey tell it, the great century-long run we've enjoyed is over and the 1.8% average growth rate the world has enjoyed is done. You may as well hang up your spurs and go home.
The argument reminds me a lot of Peak Oil...
Join the conversation. Click here to jump to comments…
About the Author
Keith is a seasoned market analyst and professional trader with more than 37 years of global experience. He is one of very few experts to correctly see both the dot.bomb crisis and the ongoing financial crisis coming ahead of time - and one of even fewer to help millions of investors around the world successfully navigate them both. Forbes hailed him as a "Market Visionary." He is a regular on FOX Business News and Yahoo! Finance, and his observations have been featured in Bloomberg, The Wall Street Journal, WIRED, and MarketWatch. Keith previously led The Money Map Report, Money Map's flagship newsletter, as Chief Investment Strategist, from 20007 to 2020. Keith holds a BS in management and finance from Skidmore College and an MS in international finance (with a focus on Japanese business science) from Chaminade University. He regularly travels the world in search of investment opportunities others don't yet see or understand.