New FAA drone regulations were proposed Feb. 15, and they could damage the developing drone plans from companies like Google Inc. (Nasdaq: GOOG, GOOGL) and Amazon.com Inc. (Nasdaq: AMZN) ...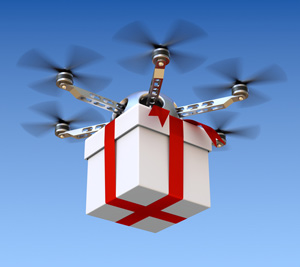 The two high-flying tech companies have long awaited a change to the Federal Aviation Administration's drone regulations. They have both released plans to use commercial unmanned crafts for services like package delivery, Internet networks, food delivery, and more.
Currently the FAA allows recreational drone flying so long as the pilots follow certain rules, but allowances end there. The agency has in place a near-ban on the commercial unmanned crafts.
The FAA has worked on drone regulation reform for four years. Now the agency has offered up a potential change.
Its proposal is "more progressive than we expected," Small UAV Coalition executive director Michael Drobac said to The Wall Street Journal Monday. Small UAV Coalition is a trade group that represents Amazon, Google, and other drone makers.
"But once you spend some time looking at them, some of the things proposed would be devastating to the future of the industry."
FAA Drone Regulations Proposal: Key Takeaways
The FAA's proposed drone regulations lift some restrictions on commercial drone flights. However, they still bar activities like delivery of packages.
Here are the key takeaways from the proposal:
Commercial drones can't weigh more than 55 pounds, including cargo weight.
Operators must pass a written exam on the FAA rules and get a certificate to legally fly drones in the United States. They must pass the test once every two years.
Commercial drones must fly below 500 feet, only during daytime hours, and with a maximum airspeed of 100 miles per hour.
The drones cannot be flown near airports, or above people uninvolved with the drone's flight.
And this final point is a real killer so far as GOOG and AMZN are concerned:
They can only be flown within the line of site the operator.
Now the big question is, how much will these new FAA drone regulations hurt Google and Amazon.com - which have both devoted R&D toward drone tech since at least 2010?
How FAA Drone Regulations Could Affect GOOG and AMZN Tech
On April 14, 2014, Google acquired drone-maker Titan Aerospace for $60 million to commence Project Loon. The company is now testing solar-powered drones that could increase Internet access around the world. (More than 60% of the world's population is still offline, according to a September 2014 study by McKinsey & Co.)
[epom key="ddec3ef33420ef7c9964a4695c349764" redirect="" sourceid="" imported="false"]
And on Aug. 31, 2014, GOOG unveiled Project Wing - a fleet of delivery drones it said it had been working on for two years. Google tested its minion deliverers in Australia, where drone regulations are more relaxed than in the United States.
"Self-flying vehicles could open up entirely new approaches to moving things around - including options that are faster, cheaper, less wasteful, and more environmentally sensitive than the way we do things today," a Google spokesperson said Aug. 31.
Meanwhile, Amazon's drone delivery service Prime Air predates Google's. Amazon.com CEO Jeff Bezos unveiled the project in a Nov. 30, 2013 "60 Minutes" interview. He said his aerial deliveries would be ready within four to five years. The company's website promised the drones could launch as soon as federal rules change.
AMZN requested an exemption from the FAA in August 2014 that would allow it to test beyond its Seattle R&D lab. It has yet to receive a ruling.
On Dec. 1, 2014 (Cyber Monday), AMZN deployed 15,000 drones to help process orders within its fulfillment centers. A day later, it launched a restaurant takeout and delivery service in Seattle that would ultimately rely on Prime Air drones to carry food.
As proposed, the FFA drone regulations would prevent Prime Air from operating in the United States, according to Amazon vice president for global public policy Paul Misener.
In a statement Monday, he added "the FAA needs to begin and expeditiously complete the formal process to address the needs of our business, and ultimately our customers. We are committed to realizing our vision for Prime Air and are prepared to deploy where we have the regulatory support we need."
The Bottom Line: The new FAA drone regulations certainly hurt both Google's and Amazon.com's plans to profit from an exciting tech subsector.
But there are a few important points investors need keep in mind:
This is only a proposal. The new rules are posted for public comment for 60 days. The FAA expects thousands of comments, so the rules won't be finalized till sometime 2016.
After four years of nothing, the FAA has finally made an attempt to balance safety issues with new drone tech. This is a long-needed starting point.
Google and Amazon are both well-funded, resourceful companies with a diversity of projects in their R&D pipelines. A commercial drone business is not make-or-break-it for their operations.
Google Pushes the Limit: On Jan. 21, GOOG announced a $1 billion deal with Elon Musk's commercial space venture, SpaceX. Together, the two companies intend to bring the entire world online...
Join me on Twitter @TaraKateClarke.
Related Articles: