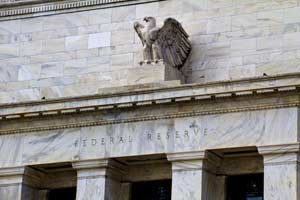 The Federal Open Market Committee (FOMC) minutes released today did one thing. They reiterated how important it is for investors to ignore the "noise" about what the Federal Reserve is doing, and focus on long-term value.
You see, analysts will comb the January FOMC meeting minutes for hints of an interest rate rise, but it's a waste of time.
The expectation is for the Fed to raise rates sometime in the summer. But at this point, the Fed won't do anything until it has enough ammunition to pursue either policy. And then it will justify its choice as it sees fit.
Basically, the Fed will do what it wants.
The Fed has twisted the economic data before to keep interest rates low. Remember when a 6.5% unemployment rate meant rate increases by the Fed's own guidance? Then they said the threshold was nothing more than empty, outdated policy guidance. Unemployment has been below 6.5% for 10 months now. Rates are still at zero.
Plus there's a question over how well the Federal Open Market Committee interprets the data.
"The Fed has been wrong about every indicator it has ever looked at for the last 20 years," said Money Morning Chief Investment Strategist Keith Fitz-Gerald, "But especially its take on the economic health of the United States since the financial crisis started."
Even if unemployment fell below its current 5.7%, the Fed could keep pushing the goalposts. Fed chairwoman Janet Yellen can say there's still "slack" in the labor markets. She can say the underemployed figures are too large. She can spin the numbers either way, regardless of what happens.
There's no way to actually know what the Fed is going to do next. And an investor can easily look at Fed monetary policy and make a misguided investment decision.
For example, higher interest rates will hurt companies like International Business Machines Corp. (NYSE: IBM), which used low rates to load up on cheap debt and buy back shares. But higher rates will help big banks like Wells Fargo & Co. (NYSE: WFC), which benefit from fatter interest rate margins.
That's not the best way to choose an investment.
Instead, what we do know is solid companies will continue to be strong investments regardless of what the meeting minutes show us...