I'm getting dozens of questions about Greece right now and what it means for your money.
That's fantastic for two reasons.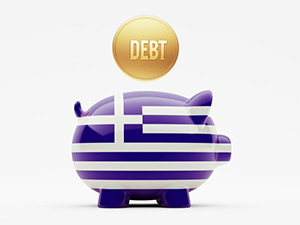 First, it means you're totally on point and thinking clearly in the pursuit of profits.
Second, it's a sign that you're already fully engaged in our Total Wealth strategy and one of our core Total Wealth principles – namely that there's always opportunity in chaos, if you have the right tactics.
Greece is the single most important thing happening in the markets right now. I know that the mainstream press is treating it as an afterthought and the temptation is to regard it as "over there." But the financial markets have proven again and again that events taking place thousands of miles from our own shores clearly influence market behavior closer to home.
I'm going to lay out the three scenarios for what is about to happen and how it will affect you. Then I'm going to show you three trades you can make today.
And don't wait to make your move.
Greece has only about 13 days to go before it runs out of cash, according to JPMorgan.
Here's everything you need to know now…
What's everyone in Europe so angry about?
Simply put, Greece lied to get into the EU, managed its finances terribly while ostensibly a part of the bigger picture, and now wants to renege on its obligations… or at least renegotiate them.
Greece owes some 320 billion euros, approximately 75% of which is due to lenders including the IMF, ECB, EFSF, and Eurozone governments, all of whom are doing business with the world's big banks and trading houses. And again, they're now refusing to pay it back. Swept in on a populist vote, Greece's new PM, Alexis Tsipras is rejecting austerity, equating it to economic "blackmail."
I get where he's coming from but to think there wouldn't be conditions on the bailout that has saved his country to date is just plain naïve. But that's a subject for another time, and possibly a debate or two.
The real problem is that each euro that's been borrowed has been hypothecated – pledged as collateral for debt – at least once, but perhaps re-hypothecated as many as nine times, because of the way the world's fractional deposit banking system works and the largesse associated with government printing.
In plain English, this means two things…
Join the conversation. Click here to jump to comments…
About the Author
Keith is a seasoned market analyst and professional trader with more than 37 years of global experience. He is one of very few experts to correctly see both the dot.bomb crisis and the ongoing financial crisis coming ahead of time - and one of even fewer to help millions of investors around the world successfully navigate them both. Forbes hailed him as a "Market Visionary." He is a regular on FOX Business News and Yahoo! Finance, and his observations have been featured in Bloomberg, The Wall Street Journal, WIRED, and MarketWatch. Keith previously led The Money Map Report, Money Map's flagship newsletter, as Chief Investment Strategist, from 20007 to 2020. Keith holds a BS in management and finance from Skidmore College and an MS in international finance (with a focus on Japanese business science) from Chaminade University. He regularly travels the world in search of investment opportunities others don't yet see or understand.