All eyes are on Greek debt crisis this week, and rightfully so.
The country lied to get into the European Union, managed its finances terribly during its membership, and now wants to renege on its obligations.
I'm not surprised and chances are you aren't either. We've been talking about the fallacy of central banking and the dangers associated with derivatives trading for years.
Now we need to talk about what happens next and, of course, what Greece means for your money.
The markets right now are all about the big boys and their toys, and specifically the estimated $1.5 quadrillion worth of derivatives on the planet at the moment.
You're not hearing a lot about this because our leaders do not understand the connection, which, of course, means they do not understand the risks either.
Thankfully, we do.
The Risks of a Greek Default
Greece owes some 320 billion euros ($363.6 billion), approximately 75% of which is due to a motley crew of lenders including the International Monetary Fund, European Central Bank, European Financial Stability Facility, and Eurozone governments, all of whom are doing business with the world's big banks and trading houses. Each euro is hypothecated at least once, but perhaps as many as nine times because of the way the world's fractional deposit banking system works and the largesse associated with government printing.
In plain English, this means two things: a) that there may be only one euro in the system for every nine created out of thin air because b) the banks have entered into agreements that reuse collateral pledged by clients as collateral for its own trading or borrowing.
I realize this is hard to grasp, so let me put this another way by showing you the cost of Greek debt for each person in the most exposed countries in the event Europe has to do a total bailout.
It's no wonder people are angry. If you live in Denmark or Germany, for example, you owe 708 euros ($805) and 700 euros ($795) respectively to cover Greece's mess. Finland… 687 euros ($781). And so on.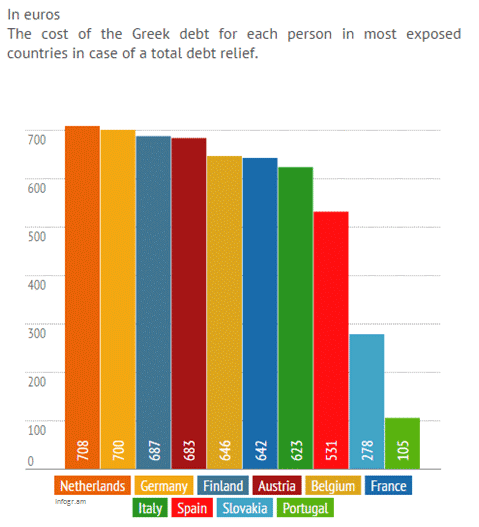 Here's where it gets really ugly, though.
In the event of a Greek default, the derivatives the big banks are trading as "insurance" against such an occurrence kick in. That, in turn, creates the risk of a cascading default as traders compete with each other to find the single euro of real money in the system and save themselves from ruin. The problem is that nobody knows who's got it.
As a side note, if you've ever wondered why U.S. interest rates aren't through the roof or rising faster than hot air at a political convention, here's your answer.
In order to trade derivatives and re-hypothecate assets, you've got to have lots of collateral, ideally U.S. Treasuries because they're considered the "safest" assets on the planet. This is why rates are low… because demand for U.S. paper remains high as a result of the constantly mounting trading risk.
I don't know about you, but this kind of stuff makes me hopping mad because the big banks are, once again, being allowed to take the rest of the world on another white-knuckle ride nobody's signed up for.
How the Greek Debt Talks Will End
I see three possible outcomes.
Greece gets kicked out or "voluntarily" leaves the Eurozone. If this happens, I see the euro hitting parity with the dollar in a hurry. The U.S. stock market corrects immediately, then moves on because, let's face it, letting Greece go it alone is like seeing Montana go bankrupt – only about 2% of the Eurozone's GDP. No offence to Montana; I love your state and your people. Just making a relative comparison here to illustrate a point.
Join the conversation. Click here to jump to comments…
About the Author
Keith Fitz-Gerald has been the Chief Investment Strategist for the Money Morning team since 2007. He's a seasoned market analyst with decades of experience, and a highly accurate track record. Keith regularly travels the world in search of investment opportunities others don't yet see or understand. In addition to heading The Money Map Report, Keith runs High Velocity Profits, which aims to get in, target gains, and get out clean, and he's also the founding editor of Straight Line Profits, a service devoted to revealing the "dark side" of Wall Street... In his weekly Total Wealth, Keith has broken down his 30-plus years of success into three parts: Trends, Risk Assessment, and Tactics – meaning the exact techniques for making money. Sign up is free at totalwealthresearch.com.