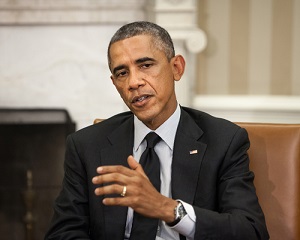 U.S. President Barack Obama doubled down on his fight against cyberterrorism last week - which means he also delivered 2015's second major "buy" signal for cybersecurity stocks.
The first cybersecurity profit alert was in early February. That's when President Obama requested $14 billion in his 2016 fiscal-year budget for increased cyber defense. Roughly $5.5 billion of that is requested just for the Pentagon.
The second came just last week, when President Obama spoke at the first ever White House Summit on Cybersecurity.
"In recent breaches, more than 100 million Americans had their personal data compromised, including, in some cases, credit card information," President Obama told a room full of leaders from Congress, law enforcement, and the tech industry.
The White House's commitment to cyber defense means billions of dollars will start to pour into cybersecurity companies - which is huge news for investors.
"The money spent on cyber defense represents one of the highest profit potentials of anything I've encountered," Money Morning's Small-Cap Investing Specialist Sid Riggs said. "And the growth numbers spotlight not just one company but an entire sector that will have the wind at its back for the rest of our investing lifetimes."
How the Government Is Making Cybersecurity Stocks a Win
The reason for the government's cybersecurity push is the staggering amount of money spent preventing and responding to cyber threats every year...
IBM Corp. (NYSE: IBM) claims its client companies are attacked 16,856 times per year on average
And it isn't just tech firms that are targeted. Every industry is under attack:
April 2014: Home Depot Inc. (NYSE: HD) said millions of its customers had their credit card information stolen. That cost the company $148 million.
July 2014: JPMorgan Chase & Co. (NYSE: JPM) reported 76 million accounts had been accessed by international hackers.
November 2014: The biggest cybercrime story of 2014 year went to Sony Corp. (NYSE ADR: SNE). That cost the company $100 million and comprised every single piece of information in Sony's systems.
February 2015: Healthcare firm Anthem Inc. (NYSE: ANTM) reported 80 million personal records had been breached.
"More than $95 billion will get spent this year alone trying to prevent the inevitable assault on your private information and confidential records," Riggs told his Money Map Report readers in February.
By 2019 cybersecurity spending will reach $155.74 billion, according to market research firm MarketsandMarkets. That's a 63% growth rate.
And the problem isn't isolated to the United States - it reaches every corner of the globe.
According to McAffee Inc., cybercrime costs the global economy more than $575 billion per year...
"That's more than 3% of America's 2014 GDP, and it's creating a lot of pent-up demand from countries, companies, and individuals determined to protect themselves," Riggs said.
That's why the cybersecurity field will see a pickup in profits. The best way to start investing in cybersecurity stocks in 2015 is to take this balanced approach...
The Best Way to Invest in Cybersecurity Stocks Now