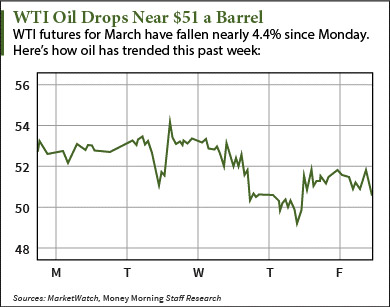 Current crude oil prices remain below $52 a barrel today (Friday). This comes at the end of a week that has seen a 3.8% drop so far.
By 10:30 a.m. today, WTI oil prices were down 0.74% to $50.78 a barrel.
Brent crude prices traveled in the opposite direction. Futures for April delivery traded up 0.22% at $60.34. Brent closed at a 2015 high on Tuesday, ending the day at $63 a barrel.
What's behind this week's fall in current crude oil prices is a new report from the Energy Information Administration (EIA). Released Thursday, the report said U.S. stockpiles reached 425.6 million barrels last week. That's a 7.7 million barrel increase from the previous week, more than double the amount projected by analysts surveyed by Platts.
But this week's drop is just more short-term volatility as oil levels off. In fact, looking at the big picture, prices have already started to stabilize…
How to Increase Your Investment Returns, Starting Today: Many investors have three habits that kill returns. One of them is "emotional investing." Find out the other two and how to avoid them in our free guide: Make 2015 Your Wealthiest Year Yet
Despite recent pullbacks, WTI and Brent are up 6% and 19% in the last month. And according to Money Morning Global Energy Strategist Dr. Kent Moors, current crude oil prices will not continue to drop. He says they've already bottomed.
"While oil is not going to surge in the short-term," Moors explained, "oil prices should begin to level off, absent any major geopolitical tension beyond the levels we're already seeing."
Here's what will push oil higher…
Why Current Crude Oil Prices Will Return to $70 Range
Oil producers are taking measures that will tighten supply, while demand continues to rise.  Together, these forces will allow the oil market to gradually correct.
The rig count is already down as companies take production offline because of low prices. Last week, Baker Hughes Inc. (NYSE: BHI) reported the number of active U.S. rigs fell by 84 to 1,056, the lowest since August 2011.