Now that Greece has a new government, its focus on debt negotiations continue with a different front man representing the beleaguered country.
Citizens remain skeptical at best and are rushing to get their money out of Greek banks while Prime Minister Alexis Tsipras makes overtures to Russia and China for funds to alleviate the country's fiscal crisis.
Things could go south quickly as the government and banks still face a major cash crunch, despite Friday's market-rallying announcement of a four-month reprieve from Eurozone creditors.
Amidst the chaos, some exceptionally rich opportunities borne of fear are taking shape…
Why Russia Welcomed the New Greek Government
Yanis Varoufakis, who admitted he was the finance minister of a bankrupt country, assured in the past "we will never ask for financial assistance in Moscow." Conveniently, that was worded not to rule out accepting help should it be offered. Nikos Chountis, deputy foreign minister for Greece, confirmed that both Russia and China have already made offers of financial support.
While the West may not have warm feelings for Russian President Vladimir Putin, that's not true everywhere, particularly in his home country. Recent polls in Russia indicate 85% of the populace trust Putin and 74% would vote for him if elections were held now.
Connecting the threads, when Greece's Tsipras won his own recent elections, Russian president Putin was quick to call to congratulate him and invite him to Moscow.
Renewing European sanctions on Russia depends on Greece, as unanimity is required of all EU members. This is one tool of leverage Greece has on Europe in seeking Russian aid. Consider too that Russia is Greece's largest trading partner. Moscow's "friendliness," in the region has recent precedent as Cyprus has been in talks to provide Russia with access to its ports and airstrips. Officially, that would be to meet humanitarian needs, but rumors are flying of the possibility for military access.
Ties between these nations run beyond recent history. Greece and Cyprus both are Orthodox countries, a religious heritage they share with Russia. In the early 1800s Greece benefitted from Russian help in its War of Independence from the Ottoman Empire. Today there are tens of thousands of Greeks living in Russia, and vice versa.
But the former Soviet superpower has yet another ace up its sleeve of influence.
Russia has its eyes on Greece for strategic purposes. The original South Stream pipeline, intended to cross the Black Sea to Bulgaria, was cancelled by Putin on December 1. He blamed the EU, saying they were "unconstructive" towards cooperation, as was clearly Bulgaria's decision to end development of the pipeline on its territory.
Instead, the 63 billion cubic meter gas pipeline will now cross the Black Sea into Turkey, and then on to its border with Greece, creating a gas hub for delivery to Europe. That allows Putin to bypass the hotspot of Ukraine while dangling carrots in front of Greece.
Capital Is Departing Greece En Masse
Meanwhile, there's been no lack of volatility in Europe as debt negotiations with Greece swing back and forth between encouraging and disheartening. Friday's "rally" was but one of many ahead.
These troubling oscillations are certainly felt by Greek citizenry. It's estimated that Greek banks are bleeding up to 2 billion euros daily, with as much as 23 billion euros departing accounts over the past two months. That money is heading to perceived safe havens, often elsewhere in Europe. At current capital depletion rates, it's estimated that Greek banks could run out of collateral for new loans within three months. As a stopgap measure, they've been tapping emergency funding from the Bank of Greece, the country's central banking unit.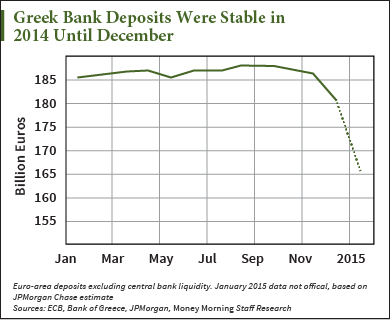 Who can blame the exiting depositors?  A recent Bloomberg piece reported on a drastic measure that Greece may be poised to institute, which is likely only exacerbating the exodus. Daniel Gros, director of the Centre for European Policy Studies said the outflows from Greek banks could prompt the government to resort to Cyprus-style solutions: imposing capital controls.
In some cases, worried Greeks are stashing physical cash underneath floor tiles, or burying it in the garden. According the U.K. Royal Mint, Greek demand for gold coins is up as they seek out another safe haven from political chaos.
The Opportunities You Can Seize
Clearly Greek citizens and investors are scared, with good reason. Ironically, that's opened up some opportunities that may simply not have existed otherwise.
Join the conversation. Click here to jump to comments…
About the Author
Peter Krauth is the Resource Specialist for Money Map Press and has contributed some of the most popular and highly regarded investing articles on Money Morning. Peter is headquartered in resource-rich Canada, but he travels around the world to dig up the very best profit opportunity, whether it's in gold, silver, oil, coal, or even potash.