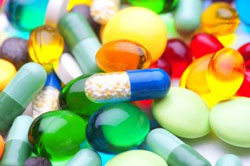 There's a screaming buy opportunity coming from a certain group of pharmaceutical stocks right now.
These pharma companies offer a certain kind of specialty drug. Research firm IMS reports more than 25% of the money spent on pharmaceuticals in 2012 was on specialty drugs.
And this specific type of specialty drug market is expected to quadruple over the next five years. Consumer spending on these drugs hit $87.1 billion in 2012, according to PricewaterhouseCoopers. In five years that number will soar to $401.7 billion.
That's more than the total $325.7 billion spent on U.S. prescription drugs in 2012, according to The Wall Street Journal.
"Specialty pharmacy, which once occupied only a small niche in the marketplace, has now become the largest growth area in the pharmacy industry," a report from IMS Health said.
That's huge news for these pharmaceutical stocks...
Specialty Drugs Make These Pharmaceutical Stocks a "Buy"
This growing sector is known as "high-margin specialty drugs." They are prescription medications that treat complex, chronic, and debilitating illnesses. They're also very expensive, as much as hundreds of thousands of dollars.
Some of the more common diseases that require high-margin specialty drugs are multiple sclerosis, rheumatoid arthritis, and hemophilia.
Here are three of the priciest on the market:
Soliris: Developed by Alexion Pharmaceuticals Inc. (Nasdaq: ALXN), Soliris treats the rare blood disorder paroxysmal nocturnal hemoglobinuria. There are only about 8,000 patients in the U.S. with the disorder, but Soliris costs patients roughly $410,000 per year.
Elaprase: Shire Plc. (Nasdaq: SHPG) developed Elaprase to treat Hunter Syndrome. Patients with the disease are unable to break down complex molecules due to non-functioning enzymes. The drug costs more than $375,000 per year.
Naglazyme: This drug treats Maroteaux-Lamy syndrome, which can cause dwarfism, heart conditions, and nerve problems. BioMarin Pharmaceutical Inc. (Nasdaq: BMRN) charges roughly $350,000 for the drug.
Not surprisingly, those specialty drugs have also fueled incredible runs in pharmaceutical stocks. ALXN stock has soared more than 625% since 2010. SHPG is up nearly 275% in that time. BMRM has gained 415%.
But there's one section of the specialty drug market that stands out today as the best profit opportunity...
Pharmaceutical Stocks Profiting from 200% Annual Sales Growth