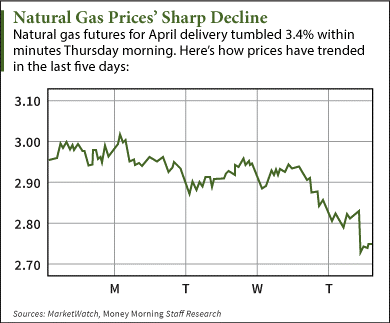 Natural Gas News: Natural gas prices today (Thursday) abruptly declined after the U.S. Energy Information Administration (EIA) announced U.S. supplies fell less than expected last week.
Prices fell to $2.75 per million British thermal units (BTUs) today. That's a 3.85% decrease from yesterday's close of $2.86.
The EIA reported natural gas supplies fell less than expected last week despite extreme cold in the eastern United States. Analysts surveyed by Platts expected a supply drop between 239 billion cubic feet and 243 billion cubic feet. Supply only decreased by 219 billion cubic feet, or 10.2%. Total supply is now at 1.938 trillion cubic feet, 42.3% above year-ago levels and about 1.5% below the five-year average.
Futures for April delivery have taken a beating this week, falling 8.3% since Monday.
Make More Money This Year, No Matter What the Market Does... You can make 2015 your wealthiest year in a few simple moves. You just need the three common investing habits to dump immediately, the single most effective strategy for your portfolio, and five stocks to get you started to a wealthier you. Get all of that right now in this exclusive guide...
But Money Morning Global Energy Strategist Dr. Kent Moors knows prices will rise, as demand continues to grow.
"From the rise of U.S. liquefied natural gas (LNG) exports to both Europe and Asia to the transition well underway from coal to gas in the generation of electricity, the ability to produce more unconventional gas is being met by a rise in the demand curve," Moors said.
Natural Gas News: The Sector's Best Stock Pick
According to Moors, everyone thought the United States would need LNG imports to meet 15% of its gas needs by 2020. Instead, the U.S. could be providing 8% to 12% of worldwide LNG exports by then.
[epom key="ddec3ef33420ef7c9964a4695c349764" redirect="" sourceid="" imported="false"]
Thanks to the U.S. Department of Energy finally letting companies export, there'll be plenty of opportunities for investors to get a piece of the global trade.
"There is a range of profitable moves about to hit," Moors noted back in October. "Natural gas normally doesn't have the sizzle that crude oil has among investors. Of course, making money tends to change that real fast."
Moors' favorite pick in the sector is up about 675% since he first told readers about it November 2011. It was the first company to receive Energy Department approval to export to countries that don't have a Free Trade Agreement with the United States.
The company: Cheniere Energy Inc. (NYSEMKT: LNG).
Moors noted in 2011 that Cheniere would increase in value with every contract signed. It's already inked five 20-year export contracts with importers in Europe and Asia.
Find out the full story on why Cheniere is a "Buy" and get today's most profitable natural gas news by signing up for Money Morning today.
Follow me on Twitter: @AlexMcGuire92