When Wall Street says something is "dead," you know what to do: You check for a pulse – because you never trust Wall Street. In the case of healthcare M&A, the paid pundits have said the market is on ice. But they're wrong: there is a sign of life – which provides a startling and lucrative investment opportunity. I'm going to reveal it today.
When the Street declared the "death" of the big biotech merger after the Feds started cracking down on so-called "tax inversions," I started my "crime scene" investigation.
Here's what I turned up: Global healthcare mergers and acquisitions (M&As) have soared 124% so far this year, to $35.1 billion. That makes this the best start for since 2009.
But let's thank Wall Street for this bit of misdirection – because it gives us a chance to pounce on the ongoing biopharma M&A trend while other Main Street investors are getting bluffed.
Today I want to show you how you can use the little-noticed M&A boom to outperform the wider market – maybe by as much as 95% over the next two years…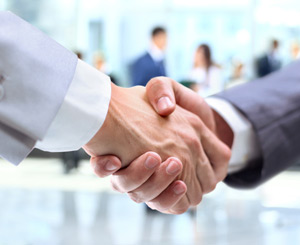 Avoidance Strategy
No doubt, some of the economics behind these marriages has eroded now that Washington has cracked down on tax-inversion deals.
These are transactions in which a U.S.-based company attempts to reduce its corporate tax bill by buying a foreign firm where corporate taxes are cheaper and then moving its "official' headquarters there.
You probably remember the $11 billion Burger King Worldwide Inc.-Tim Hortons Inc. merger last year, which created Restaurant Brands International Inc. (NYSE: QSR). That fast food deal ended up with Burger King moving its headquarters to tax-friendlier Canada.
That was the big reason behind these deals.
The U.S. corporate income tax rate stands at 35% - the highest in the developed world, according to the nonpartisan think tank the Tax Foundation. By contrast, the 33 other industrialized countries in the Organization for Economic Cooperation and Development have an average rate of 25%.
Big-cap pharmaceutical and biotech firms found these deals alluring for two reasons. First, they could lower overhead quickly at a time of greater concern about rising healthcare costs.
Second, global firms generate a lot of sales offshore. By moving their headquarters overseas, biopharma companies could use the money "back home" without paying high U.S. tax rates.
But all that reasoning basically has gone out the window.
That Burger King-Tim Hortons deal and others received a lot of negative attention last summer - and led to new U.S. Treasury Department regulations that make tax inversions less lucrative.
Then, AbbVie Inc. (NYSE: ABBV) backed out of its $54 billion merger with Shire Plc.(Nasdaq: SHPG) in October. And that's when Wall Street told everyone that the number of biopharma industry M&As would plummet in 2015 and beyond.
Since then, however, we've actually seen an increase in healthcare mergers. Just two weeks ago, Pfizer Inc. (NYSE: PFE) said it's buying Hospira Inc. (NYSE: HSP) for $17 billion.
And there's plenty more where that came from...
Healthcare M&A Deals Are on the Rise
A new report by Thomson Reuters shows that deal making in the healthcare sector (including the biotech and pharmaceutical firms we look into at Strategic Tech Investor) ranks as the third highest by sector after telecom and financial firms.
But that ranking greatly understates the healthcare industry's feverish activity. Like I said before, global healthcare M&As have soared 124% to $35.1 billion so far this year.
For total U.S. M&A deals, Thomson Reuters found they're up 60% from a year ago, to $101.3 billion. And the Pfizer-Hospira deal is the largest so far in 2015, bigger than the next two combined.
M&A deals will remain a big driver for the whole healthcare industry. The pickup in M&A activity will translate into healthy bonuses for bankers and lawyers, certainly, but it will also continue accelerate stocks in the biotech and pharmaceutical sectors way past the overall market.
Since the start of 2014, the S&P 500 Health Care Index has soared 29.2%, and the Nasdaq Biotech Index has advanced 48.4%. The wider Standard & Poor's 500 Index, meanwhile, has jumped just 14.1%.
Here's one reason why biopharma deals will keep happening. Older patents at several leading firms are expiring, leaving the companies open to new competition.
It can take 10 years and $1 billion to get a new drug to market.
The Way to Play It
That means big players with large cash reserves often find it easier to buy competitors' product lines or those competitors themselves than to launch new drugs from scratch.
So, I want to introduce you to an exchange-traded fund (ETF) that's the best way to profit from healthcare M&A.
It's the SPDR S&P Pharmaceuticals (NYSE: XPH). It's composed of some of the biopharma industry's leading firms and a smattering of aggressive small caps.
XPH is not an M&A fund - but it's a great way to take advantage of the trend. This ETF focuses on the industry's bread and butter: high earnings.
And many companies in the fund's portfolio will likely end up growing through mergers. Or they could become targets themselves.
For instance, XPH holds both Pfizer and Hospira. So, XPH profits from the sale of Hospira stock and, over the long haul, from Pfizer's lower-cost, higher-growth business model.
XPH holds 36 stocks, with an average market cap of $36 billion. Several of them are prime examples of the biopharma M&A boom that we seek to get a piece of:
No wonder XPH has greatly outperformed the overall market for the last two years.
[epom key="ddec3ef33420ef7c9964a4695c349764" redirect="" sourceid="" imported="false"]
During the period, XPH returned roughly 95% to investors. That's well over double the S&P's return of 38% during the period.
And it's more than just a great way to cash in on the steady stream of biotechnology and pharmaceutical M&A activity.
This is an ETF that, at its heart, is focused on biopharma firms' ongoing high earnings growth.
The beauty of a play like this one is that rather than try to pick a single winner, we get the benefit of the entire sector's operations.
That makes XPH an excellent foundational investment to pave your road to wealth.
More from Michael: The road to wealth is paved by tech. And that proved true in 2014 when nearly two dozen stocks Strategic Tech Investor Editor Michael Robinson recommended beat the market. If you pick the right tech stocks and manage them properly, you can beat Wall Street at its own game. In fact, Michael has one stock that could soar 105% in the near term. To get this play right away - plus all of Michael's research free - click here.
The Secret Way to Profit from the IPO Boom: Some 275 U.S. companies went public in 2014, the highest number in 14 years. High-tech and life sciences firms accounted for 57% of new issues. While it may not eclipse 2014, this year is already shaping up to be another big one. Here's the lesser-known path to profiting from this year's IPO boom...
About the Author
Michael A. Robinson is a 36-year Silicon Valley veteran and one of the top tech and biotech financial analysts working today. That's because, as a consultant, senior adviser, and board member for Silicon Valley venture capital firms, Michael enjoys privileged access to pioneering CEOs, scientists, and high-profile players. And he brings this entire world of Silicon Valley "insiders" right to you...
He was one of five people involved in early meetings for the $160 billion "cloud" computing phenomenon.
He was there as Lee Iacocca and Roger Smith, the CEOs of Chrysler and GM, led the robotics revolution that saved the U.S. automotive industry.
As cyber-security was becoming a focus of national security, Michael was with Dave DeWalt, the CEO of McAfee, right before Intel acquired his company for $7.8 billion.
This all means the entire world is constantly seeking Michael's insight.
In addition to being a regular guest and panelist on CNBC and Fox Business, he is also a Pulitzer Prize-nominated writer and reporter. His first book Overdrawn: The Bailout of American Savings warned people about the coming financial collapse - years before the word "bailout" became a household word.
Silicon Valley defense publications vie for his analysis. He's worked for Defense Media Network and Signal Magazine, as well as The New York Times, American Enterprise, and The Wall Street Journal.
And even with decades of experience, Michael believes there has never been a moment in time quite like this.
Right now, medical breakthroughs that once took years to develop are moving at a record speed. And that means we are going to see highly lucrative biotech investment opportunities come in fast and furious.
To help you navigate the historic opportunity in biotech, Michael launched the Bio-Tech Profit Alliance.
His other publications include: Strategic Tech Investor, The Nova-X Report, Bio-Technology Profit Alliance and Nexus-9 Network.