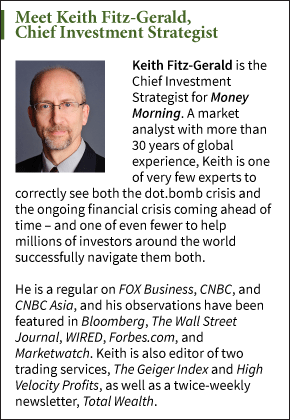 Our money-making "Tip of the Day" from our Chief Investment Strategist, Keith Fitz-Gerald:
With hundreds of companies at fresh 52-week highs, many investors question the wisdom of putting more money to work. The fear is that a stock tapping new higher prices could be ready for a fall.
But a stock that's near its yearly high can still be a good investment with room to run. So don't shy away from stocks pushing new highs based on price alone.
Instead, use the following metrics to determine if a stock is still a good buy:
Price/earnings ratio. The P/E ratio is calculated by taking a company's price per share (P) and dividing it by earnings per share (E). The higher the P/E, the more the market is willing to pay for each dollar of annual earnings.
Forward P/E ratio. This uses forecasted earnings to calculate the relative price appeal of a stock price. If earnings are expected to grow in the future, the forward P/E will be lower than the current P/E – which spells profitable days ahead for a company.
Price/earnings to growth (PEG) ratio. PEG is calculated by taking a stock's P/E ratio and dividing by its expected percentage earnings growth rate – typically for the next five years. In general, the lower the PEG, the better the value. Companies with PEG ratios of 1 or less are usually bargains.
Let's look at Apple Inc. (Nasdaq: AAPL). The stock has gained 8.77% since early February. Its total market cap is now $745 billion. Is AAPL a good deal at these prices?
Apple's P/E ratio of about 17 today is barely half that of the industry average. When accounting for forecasts up through the 2016 fiscal year, forward P/E is a respectable 14.07. The PEG ratio is 1.17.
So AAPL could still be very much a "Buy" despite its recent surge in price.
For more investing tips and stock picks from Fitz-Gerald, go here…
Make More Money This Year, No Matter What the Market Does… You can make 2015 your wealthiest year in a few simple moves. You just need the three common investing habits to dump immediately, the single most effective strategy for your portfolio, and five stocks to get you started to a wealthier you. Get all of that right now in this exclusive guide…