There's a great opportunity for investors right now to profit from the global money-printing craze. Two Japan ETF (exchange-traded fund) investments, in particular, are headed higher in 2015.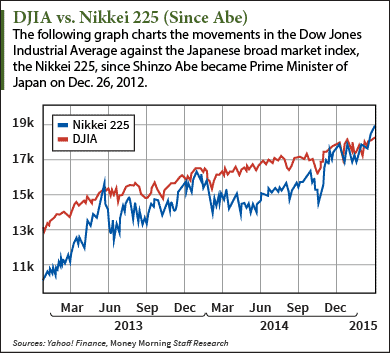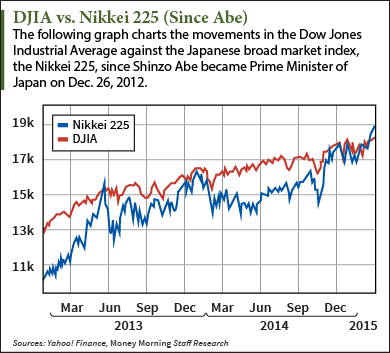 One Japan ETF we like plays the Japanese stock market, which is soaring right now and poised to climb higher.
The Nikkei 225 - a market index tracking 225 Japanese stocks - is up 7.2% just on the year.
It's up 82.8% since Japanese Prime Minister Shinzo Abe stepped into office in December 2012. His economic policies are largely behind this surge.
Compare that to the Dow Jones. It's up 38.2% in that same period.
The other Japan ETF plays the country's struggling currency. The yen has plunged more than 16% in the last 12 months.
It's not too late to get in on these two profit plays. Here's what's fueling their climb...
What's Driving These Japan ETF Profits Right Now
The surging Japanese stock market and the weakening yen have the same driver. That is, Prime Minister Abe's deflation-fighting economic plan - known as "Abenomics." Part of that plan includes the Bank of Japan's attempt to encourage bank lending and consumer spending after 20 years of deflation.
Abe wants to flood the economy with easy money stimulus to pick up demand. At the same time, he wants to drive down the yen to increase exports.
What they're "trying to do is engender the same kind of situational cycle that we have here in the U.S.... they want higher wages, they want higher turnover, and higher money velocity," said Money Morning Chief Investment Strategist Keith Fitz-Gerald.
The BOJ plan -through a program called quantitative and qualitative easing - was to add 60 to 70 trillion yen ($498 billion to $581 billion) a year to the money supply. The bank would buy Japanese government bonds, ETFs, and REITs to drive up the assets' prices and lower the yields.
The program got a boost in October 2014, when Japan was staring down a recession. The BOJ added an additional 10 trillion yen ($83 billion) a year to its QQE efforts.
And just like the Federal Reserve's QE, QQE has been a major boost for the Japanese stock market.
The main reason Abenomics has boosted the Nikkei is because foreign investors poured money into the Japanese market as soon as the central bank announced stimulus. They saw what a similar plan did in the United States. They wanted to ride the Japanese market higher, too.
According to Nomura Research Institute Economist Richard Koo, foreign investors were net buyers of Japanese equities by 16.7 trillion yen ($139.5 billion) in the year to follow the implementation of Abenomics. And the money is still coming in as large institutional clients bet on the Japanese economy finally improving in 2015.
"We are optimistic that the insipid and patchy improvements to the Japanese economy that characterized 2014 will gradually broaden and strengthen through 2015," said Russell Investments in its 2015 Annual Outlook.
Meanwhile, the yen is down for the same reason. Foreign investors, who want to whet their appetite for global money printing, are shorting the yen on Abe's promises to bolster export growth.
And this trend will continue.
Domestic demand likely won't pick up meaningfully this year. But foreign investors are going to continue to put selling pressure on the yen for as long as they can. This will be to get ahead of any potential inflationary pressures Abe's aggressive money printing might bring on.
And that's providing two great buying opportunities right now...