The European Central Bank meeting today (Thursday) has made some already enticing investment opportunities all the more attractive….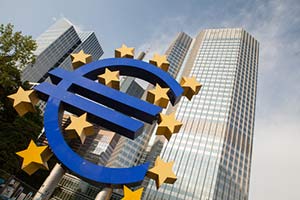 Today the European Central Bank stuck to the Eurozone's easy money script. ECB President Mario Draghi announced today he'd keep central bank benchmark rates in the cellar at 0.05%.
This indicated the central bank president has no intention to turn off the easy money spigot. In fact, the large-scale asset-purchasing program – quantitative easing – slated to begin March 9, proves Draghi's ready to turn that spigot to full blast.
Eurozone QE, announced in January, will flood the Eurozone economy with 60 billion euros ($66.1 billion) a month in government debt and asset purchases. It will expand the ECB balance sheet by 1.1 trillion euros ($1.2 trillion) by the program's expected end in September 2016.
These inflationary policies are going to keep downward pressure on the euro. The Eurozone kicked the Greek debt crisis issue four months down the road last week when it extended its current bailout program. This looming threat of a Greek exit from the euro is going to smother the currency even more.
But it's also providing strong "Buy" signals for these three investments…
European Central Bank Profit Opportunity No. 1: Short the Euro
The euro still has room to fall.
It's touched off at fresh 11-year lows following a 21% plunge since its peaks last March. It's now trading at $1.1023 – still a long way down to dollar parity where it's headed. If not further.
In January, Goldman Sachs forecasted that the euro would hit $0.90 in January 2018. Goldman is right on the main point. The euro still has a lot of room to fall. But they're off on the timeframe.
"I think Goldman analysts are too conservative," Money Morning Chief Investment Strategist Keith Fitz-Gerald said. The scope of Eurozone QE, Fitz-Gerald said, "Suggests to me that the euro will fall farther even faster than Goldman realizes. I think early 2016."
The best way to play this is through the ProShares UltraShort Euro ETF (NYSE Arca: EUO). This exchange-traded fund aims to generate twice the inverse daily returns of the dollar price of the euro.
"Critics charge that the trade is getting crowded, but I don't think so," Fitz-Gerald said. "In fact, I believe the trade still has a way to go, especially if there's a Grexit."
Money Morning Members can see the next two profit opportunities from the European Central Bank's money printing – for free.