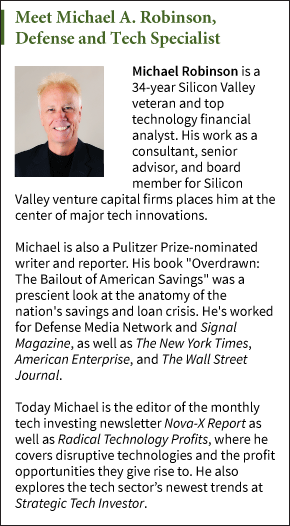 This money-making "Tip of the Day" comes from our Tech Expert, Michael A. Robinson:
Wall Street just doesn't understand the incredible opportunity that the Facebook Inc. (Nasdaq: FB) stock price represents.
But I do. And I'm predicting FB stock will double in the next three years.
Facebook has moved beyond its early identity as a social networking site for young people. It's now the indisputable world leader in the social networking market, one that forecasters IBISWorld estimates at $9 billion.
Facebook's total user base now stands at nearly 1.4 billion - that's bigger than the population of China. And Facebook's global impact will keep growing, as half of everyone online now uses Facebook, and more than 60% of the world's 7 billion people have yet to get online.
Facebook is also benefiting from the mobile revolution. In Q4 2014, Facebook had 45 million mobile users active on a daily basis, a 34% increase from the year-ago quarter.
The company is doing a great job turning the mobile trend into money. Mobile ad sales in the quarter represented roughly 69% of total ad revenue, a 30% annual gain.
Now, here's why the Facebook stock price could double...
Over the past three years, it has grown earnings per share by an average of 57%.
To be conservative, let's cut that figure in half to 28.5%. To project how long it will take Facebook to double, we use my "Doubling Calculator" (aka the Rule of 72).
If we divide 72 by Facebook's 28.5% earnings growth rate, we find that profits will double in just about 2.5 years.
Remember, price appreciation follows earnings growth. So, giving Facebook a full three years to reach about $161 is both conservative and realistic.
Robinson's full case for buying Facebook stock can be found here: This Leading Tech Stock Will Double by 2018
Make More Money This Year, No Matter What the Market Does... You can make 2015 your wealthiest year in a few simple moves. You just need the three common investing habits to dump immediately, the single most effective strategy for your portfolio, and five stocks to get you started to a wealthier you. Get all of that right now in this exclusive guide...