In the 128-year Dow Jones Industrial Average history, components have changed only 53 times.
But today (Friday) the iconic index announced Apple Inc. (Nasdaq: AAPL) will replace AT&T Inc. (NYSE: T). The change becomes effective at market open Thursday, March 19.
"As the largest corporation in the world and a leader in technology, Apple is the clear choice for the Dow Jones Industrial Average, the most recognized stock market measure," S&P Dow Jones Indices' chairman of the Index Committee David M. Blitzer said today.
Here are the companies Apple joins in the Dow: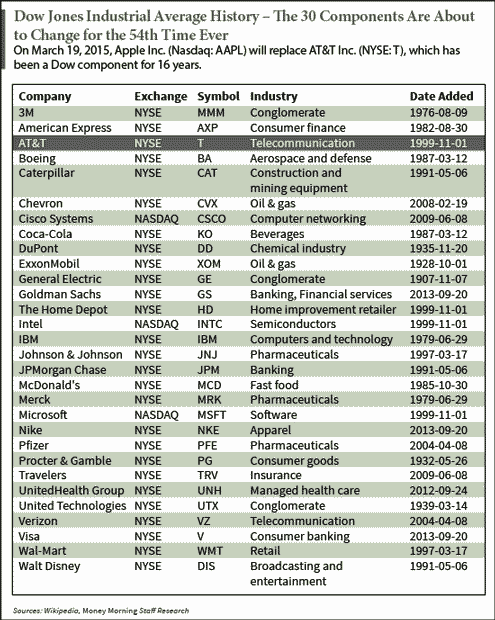 AAPL has long been considered for addition to the Dow.
It's the most valuable company in the world with a market cap of $732.5 billion. That and its trend-setting products and global brand recognition have made AAPL for years at least as worthy a Dow Jones member as any of the current tech companies in the index. In fact, one could argue Apple superseded all of them, particularly  Microsoft Corp. (Nasdaq: MSFT).
But there's a good reason why Apple is only just now making Dow Jones Industrial Average history...
Why Apple Will Finally Become Part of Dow Jones Industrial Average History
We wrote about the Silicon Valley giant's striking non-Dow status in May 2012 in "Why Apple Inc. Is Too Rich for the Dow Jones."
You see, there's one big reason the Dow's Index Committee could not include Apple: the AAPL share price.
AAPL would have been a massive percentage of the Dow because it's a price-weighted index.
"In a nutshell, the Dow Jones Industrial Average can't afford Apple stock," Money Morning Associate Editor David Zeiler, who once operated one of the top Apple blogs in the world, wrote in May 2012. "AAPL - now back over $550 and apparently headed to $600 and beyond - would overwhelm the index. Apple stock would account for about 25% of the Dow Jones, more than double the 11.5% of current leader International Business Machines Corp. (NYSE: IBM)."
At the time, if Apple were in the Dow 30, a move of just 5% in the Apple stock price would have pushed the Dow up - or down - about 200 points.
But two important factors have changed since May 2012 that render AAPL stock eligible for the Dow today ...