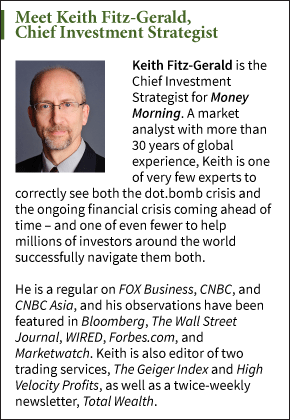 This money-making tip comes from our Chief Investment Strategist, Keith Fitz-Gerald:
The only thing standing between your portfolio and catastrophic loss is your own caution and proper risk management. Risk management may not be the most exciting part of investing. But it's the most important.
A risk-management tool called "position sizing" stands out above all others as the most powerful, and not just for cutting risk, but for boosting profits, too.
The concept is simple. It's about controlling the amount of money you place in each trade.
Here are three different methods for sizing your positions, from simple to sophisticated:
The 2% Rule: Make sure you have no more than 2% of your risk capital at stake in any single recommendation. The advantages to this model are simplicity and the fact that you can use it even with small sums of money. The disadvantages are that there's no accommodation for different types of investments, and small accounts can get overexposed if you're not careful.
The Percent Risk Model: This method serves as a great indicator for the appropriate amount of risk to take on, whether you're a seasoned investor or someone who's just getting started. Here's the formula:
Dollar Risk Size / (Buy Price - Stop Price)
Let's say you want to buy a $20 stock with an $18 stop loss, and the maximum amount you've resolved to risk is $2,000. The formula suggests you buy 1,000 shares. This model is great for long-term investors and trend followers because it regards the risks associated with each trade equally.