If you're watching the headlines, you know that the Nasdaq Composite Index - the bellwether for the tech sector - has reached the 5,000 level for the first time in 15 years.
That's prompting a few so-called "experts" to say tech stocks are in "bubble" territory.
I'm writing today to let you know just the opposite is true.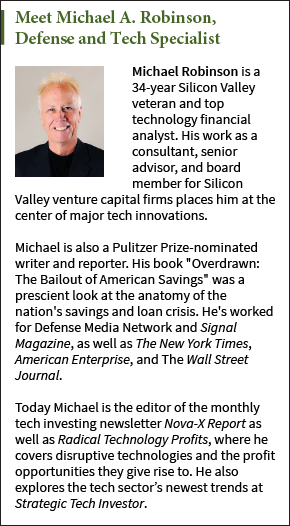 In fact, we're at the very beginning of the greatest wealth-creation cycle the tech sector has ever seen - one that will create hundreds of billions in profits for participants.
So the actual risk you face is the risk of getting left out and left behind.
The catalyst for this next leg of the bull market in tech stocks is something that Michael Robinson, Money Morning's director of technology investing, likes to refer to as "pools of innovation." And it includes such paradigm-shifting innovations as near-field communication, augmented reality, MEMS, and quantum QUBIT, just to name a few.
All of these technologies are growing at annual clips of 30%, 40%, or more.
But those growth numbers pale in comparison to what's about to take place.
You see, Michael's research suggests that these "pools of innovation" are now set to converge.
And this convergence will give rise to a gigantic, tech-sector-wide ecosystem that will supercharge growth across Silicon Valley and magnify the fortunes of investors who are shrewd enough to take action now.
Michael has spent the last seven months researching this once-in-a-lifetime development.
And he's compiled a "short list" of the five tech stocks that will capture the lion's share of the profits.
All the details can be found in his brand-new special research report - "The Million Dollar Tech Portfolio" - which you can get today.
In this report, Michael will explain how this new situation is creating the greatest tech profit cycle in history.
Then, he'll show you how to follow the money - walking you step-by-step through the five profit plays he recommends you get into ASAP.
As this situation builds steam, you'll want to follow these tech stocks closely over the next 12 months as well.
Which is why Michael is also going to give you complimentary members-only access to his Strategic Tech Investor.
Twice a week, Michael will provide updates on these "Million Dollar Tech Portfolio" stocks. Plus, you'll get research and analysis of additional firms that are "breaking ground" in new industries.
And that's not all.
Michael has been in and around the tech meccas of Silicon Valley for 30 years. He's worked as an analyst, a venture-capital firm board member, and an advisor to start-up incubator firms.
Over time, he's developed a Five-Point system that finds winning tech stocks like clockwork.
Strategic Tech Investor will show you exactly how Michael's Five-Point System works - and will teach you how to put this strategy in place for yourself.
And again, you'll get all of this at no charge. It's yours absolutely free.
Sorry; this signup opportunity has ended.