Oversold and undervalued stocks offer some of the best profit opportunities on the market. That's why we've picked the three best stocks under $10 to buy today.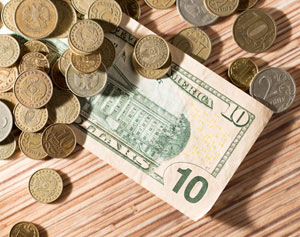 Whether these stocks are part of an untapped market, have been beaten down after a slight earnings miss, or are being unjustly lumped in with an underperforming industry, they're trading at discount. And they all offer double-digit profit opportunities.
Monster Beverage Corp. (Nasdaq: MNST) is a perfect example.
MNST stock traded under $10 for the first five months of 2004. But as the premiere name in the energy drink market, MNST stock soared. One year later, it had gained 250% and traded over $35.
By July 2006 it traded over $101 per share. That's a gain of more than 900% in just over two years. MNST shares are worth more than $136 each.
On the hunt for the next MNST, we found three of today's best stocks under $10…
Best Stocks Under $10 No. 1: Kratos Defense and Security Systems
Kratos Defense and Security Systems (Nasdaq: KTOS) is a $294 million defense company focused on communications, combat systems, and surveillance. Among its specialties are drone warfare and cybersecurity.
KTOS stock hit a rough patch in Q3 2014 when it posted earnings per share of $0.02 compared to estimates of $0.13. That news sent KTOS stock down 36% in the following month.
But Money Morning's Chief Investment Strategist Keith Fitz-Gerald said the drop was undeserved.
"Many investors seem to have it out for the stock based on a Q3 earnings miss; I have a different opinion," Fitz-Gerald said at the time. "The miss was due to problems in the contracting process and competitors protesting the fact that Kratos was winning so many contracts. Not problems stemming from Kratos itself."
As a small defense company, Kratos focuses on the areas it performs best in. Those include drones, targeting systems, avionics, and satellite communications.
"I like that. It means management has a clear vision of what they do and where they want to take the company," Fitz-Gerald said. "I'm also particularly keen on the fact that management goes to great lengths to diversify its business mix and wants to compete only where they have a distinct advantage."
The company also sticks to smaller contracts, unlike huge defense contractors like Lockheed Martin Corp. (NYSE: LMT) or Raytheon Co. (NYSE: RTN). That keeps Kratos' contracts safe from the government budget fights that can kill a company's revenue stream.
KTOS stock has climbed nearly 15% in 2015. It trades at $5.76 now, but Fitz-Gerald sees it climbing to $10 per share by the end of the year.
That's just the first of our three best stocks to buy under $10. Continue reading for the next two profit opportunities. Not a Money Morning member? You can get this best stocks list right now – just sign up…