One of our top long-term stock picks, Bitauto Holdings Ltd. (NYSE: BITA) stock, is trading at a 41% discount this week.
BITA shares are trading at $56, down from the $95 they hit Jan. 9.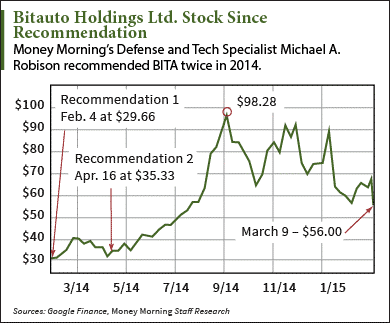 Shares of BITA stock dropped 16% March 9 even after the company reported a Q4 earnings beat. Q4 earnings were up 58% year over year, while revenue was up 101.7%.
The company announced diluted earnings per share (EPS) of $0.68 compared to estimates of $0.62. Quarterly revenue of $157.2 million topped projections of $124.4 million.
Despite those figures, American investors are still worried about the Chinese economy. That's led to the 2015 BITA stock sell-off.
In 2014, China's GDP growth slowed to 7.4% from 7.7% the year before. The IMF expects growth of 6.8% this year.
Investors are also panicking about slowing auto sales growth in China. For the first two months of 2015 sales of passenger vehicles in China grew 8.7%. In 2014, that number was 11%.
But this is an overreaction. China is still the largest auto market in the world, and it's still growing 8.7%.
That data has crushed Chinese stocks. The Nasdaq Golden Dragon China Index, which tracks Chinese companies trading in the United States, has dipped nearly 13% in the last six months.
The market slump is dragging down companies with strong financials. That's the case with Bitauto.
But Bitauto (NYSE: BITA) stock is one of the best long-term plays on the market now.
In fact, Money Morning's Defense and Tech Specialist Michael Robinson thinks it still has potential for another 50% gain within the next several years.
Here are the three reasons why BITA is a steal…
Why Bitauto (NYSE: BITA) Stock Is Buy Now
Bitauto is a $3 billion Chinese e-commerce company that operates like an online showroom for new and used car dealers. It sells online advertising and provides reviews and pricing data for consumers.
That makes it a play in one of the top industries for investors in 2015: the automotive market.
And right now, the automobile industry is experiencing a massive shift – one that Robinson describes as "the most exciting time I've ever seen in the industry."
"Connected cars" are now equipped with diagnostic sensors, Bluetooth devices, cameras, and voice command systems.
"Cars today have become high tech. They are brimming with advanced technology," he said. "A wide range of exciting new tech features – everything from advanced sensors to software to GPS to Web and Bluetooth integration – are helping the auto industry rack up new sales records."
Robinson says these three trends make the Chinese auto industry particularly exciting right now: