Each week our experts deliver the latest profit plays to our Money Morning members. Today you're getting a stock market delicacy: an ETF list comprised of the most promising, profitable exchange-traded funds that our experts like for 2015.
From biotech to cryptocurrency to healthcare M&As, ETFs are among the best low-cost ways to profit from this year's top trends. They give you access to an industry's best performers through just one investment. And because they have multiple holdings, they limit risk.
Let's get to it. This ETF list gives you seven of the best investments to make today.
Let This ETF List Be Your Guide to 2015's Biggest Profits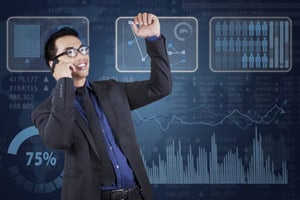 Our 2015 ETF List, Pick No. 1: Our Defense and Tech Specialist Michael Robinson knows that when Wall Street says something is dead, that "thing" is most certainly alive and kicking. The latest Street-declared "death" is that of the healthcare industry. But such a statement couldn't be further from the truth. In fact, since the beginning of 2014, the S&P Health Care Index has surged 29%. And don't forget about AbbVie Inc.'s (NYSE: ABB) recent acquisition of Pharmacyclics for a cool $21 billion on Wednesday, March 4, 2015. Pundits everywhere said the company overpaid. But one of Pharmacyclics' blockbuster cancer drugs, Imbruvica, brought in $548 million in 2014. This year, Imbruvica's projected revenue is expected to land around $1 billion. With the SPDR S&P Pharmaceuticals (NYSE: XPH) exchange-traded fund you won't miss out on these profits - and you'll get a lot more...
Our 2015 ETF List, Pick No. 2: Global Energy Strategist Dr. Kent Moors knows how to make the most out of energy investments. Since the downslide in natural gas prices finally came to a stop this year, Moors is confident that now is the time to invest in United States Natural Gas Fund LP (NYSE Arca: UNG). This ETF tracks natural gas futures, thus doubling its profit potential. Now's the time to invest - Moors said "three major super shifts" will rock the entire industry, causing prices to surge. Read about the sector's big changes and profit potential here...
Our 2015 ETF List, Pick No. 3 (with a bonus ETF play): The same force weakening Japan's yen is also causing its markets to surge: Prime Minister Shinzo Abe's economic plan, also known as "Abenomics." Foreign investors are pouring money into the Nikkei because of Shinzo's fiscal strategy. This is driving down the yen at the same time. So what do investors do? They short the currency and make mad cash from it. You can too - it's a perfect time to buy ProShares UltraShort Yen ETF (NYSE Arca: YCS), as well as this other lucrative Japan ETF up 8.6% already this year...