Alibaba Group Holding Ltd. (NYSE: BABA) stock has sold off in 2015, dipping nearly 21% through March 9. On Monday, shares closed at $82.35.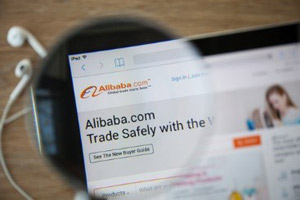 But this is not a time to sell Alibaba stock. In fact, this is the best opportunity for buying BABA stock since the September IPO.
"Most investors are right now looking at the steep skid in Alibaba as a major cause for concern. But I only see opportunity," Money Morning's Executive Editor Bill Patalon told his Private Briefing readers. "I see an opportunity for you to create the kind of wealth that you'll be able to pass along to future generations."
In fact, Patalon compares Alibaba stock to two of the most successful stock runs we've seen in the last 50 years…
Alibaba (NYSE: BABA) Stock's Impressive Peer Companies
When Patalon looks for a comparison to Alibaba (NYSE: BABA) stock, he points to Amazon.com Inc. (Nasdaq: AMZN).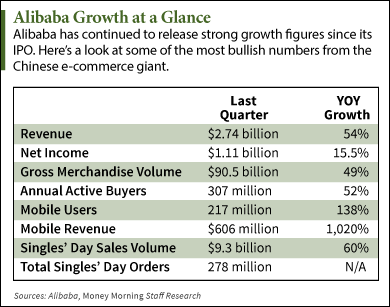 In 1997, AMZN stock debuted at $18 a share.
"But thanks to three stock splits that took place in the late 1990s, we have to 'adjust' that IPO price to really understand where Amazon's shares were trading on that same date 17 years before," Patalon said. "The adjusted Amazon IPO price works out to $1.50 a share. On Jan. 28, 1998, Amazon closed at $4.96."
Those shares opened at $378.40 this week. That's a gain of more than 25,000% from the adjusted IPO price.
"Amazon and Alibaba are examples of transformational companies – firms so revolutionary that they change the way business in their sector is conducted," he continued.
The other company Alibaba shows similarities to has seen its stock climb 1,050,000% over its 45-year trading history…
Patalon says Alibaba bears a resemblance to Wal-Mart Stores Inc. (NYSE: WMT) – not in its business model exactly, but in its timing.
You see, Wal-Mart's timing was impeccable. Founded in 1962, the retailer reached its critical mass just as the American middle class was emerging in the United States.
"Alibaba has the same opportunity," Patalon said. "It's gaining traction in its home market in China just as that country's middle class is emerging. And the development of easy-to-use mobile commerce is giving Alibaba a strong tailwind."
Wal-Mart went public in 1970, offering its shares for $16.50 each. Since then, the company has had 11 stock splits. That gives us a "split-adjusted" IPO share price of $0.008057.
"So, if you bought 100 shares at the IPO – an outlay of $1,650 – and held them until today, you'd now have 204,800 Wal-Mart shares," Patalon explained. "At its recent price of about $80 a share, your original $1,650 outlay would now be worth just a bit more than $16.384 million."
Alibaba's timing is perfect too. According to the China Internet Network Information Centre (CNNIC), the number of Internet users in the country will hit 800 million by 2016 or sooner.
Alibaba was founded in 1999, and truly hit its stride in 2014 as the company prepared for the largest IPO in history. In 2013, 80% of all online transactions in China took place over one of Alibaba's websites.
That growth in the number of Chinese Internet users will fuel Alibaba stock's run for years.
"That positions Alibaba as perhaps the single-greatest wealth opportunity of our lifetime," Patalon said.
Patalon refers to Alibaba as a "spare-change stock," and he has a particular strategy for investing in Alibaba…
The Best Strategy for Investing in Alibaba (NYSE: BABA) Stock Now